EKG Clinic
June 14, 2000
Each issue, Q Fever! presents a challenging clinical conundrum to test readers' problem-solving skills and illustrate bread-and-butter medical principles. Good luck!
A 5 yr old EKG machine was brought in by ambulance for the chief complaint of "irregular tracings."
At 9:30 AM that morning, it was at work when it "suddenly started printing weird stuff." Symptoms were vaguely described and persisted for approximately 15 minutes, during which its buttons were pressed indiscriminately, and the machine was turned off and back on again repeatedly in an attempt to correct the problem. The episode resolved spontaneously and has not reoccurred since that time. The machine had no memory of the event.
Previously, the machine had been in excellent health, although it had been to Mexico 3 weeks prior. Past repair or recall history was denied.
Physical exam showed a normal appearing Marquette 12-lead MAC 6 Plus EKG machine. Internal storage of up to 50 EKGs was within normal limits, and full 8.5 x 11 inch page reports were obtainable for easy filing in patient charts. The alphanumeric LCD readout was clear and distinct. AC power supply was unremarkable. DC NiCad battery was functioning adequately. One leg of the EKG cart was approximately 1/2 cm shorter than the others.
An EKG was performed: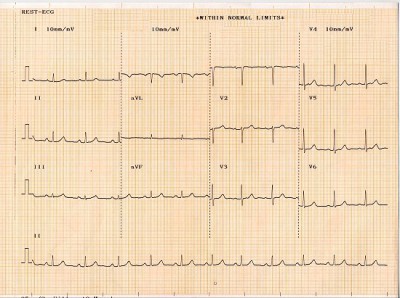 What's going on?
---
Answer:
Electrical Spillage Syndrome (ESS)
This machine most likely suffered from an internal electrical malfunction caused by a spilled cup of coffee or other liquid into its keyboard. Such accidents are the cause of over 60% of EKG mechanical errors, and are the leading preventable cause of morbidity in this age group.
What is most insidious about these mishaps is that machine malfunction can occur many months to years after actual spillage occurs, long after the initial incident has been forgotten. During this time, a thick syrupy paste is formed along the electrical baseboard and within the internal hardware. Once this paste congeals, it can be extremely difficult to predict when and if sudden electricodynamic collapse will transpire.
The treatment for this condition is supportive. Depending on the size of the initial accident, prognosis can range from fair to very good. It is uncommon for a machine to be rendered permanently unusable due to a spillage, although severe spills of highly caustic substances (i.e. lye, Clorox®) have been reported to cause significant disability. Fortunately, however, the most common culprit, coffee, causes only sporadic and benign dysfunction.
As is often the case, prevention is the best cure, and it is advisable to keep coffee, juice, and other liquids as far from EKG machines as is convenient.

Remember: Quality Without The Q Is Just Uality!
Menu

More great
gifts!

Makes a great
gift!