Classifieds
If you can't find it here ... look somewhere else™.
July 26, 2000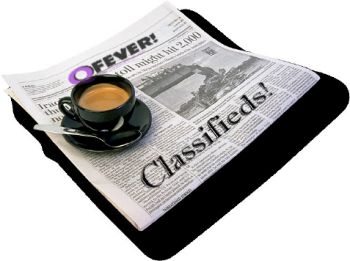 PASS THE BOARDS!
Actual copies of the Internal Medicine Boards from recent years. Most questions still used. Impress friends and employers with outlandishly high scores. Price upon request. Serious inquiries only. USMLE I, II, III, IV, and V also available. ECFMG avail. but only in Spanish. Answers to BLS, ACLS tests also avail. Discretion advised (we mean it). Reply Box 007
WANTED
Flaky psychiatrist, to join group of 5 other flaky psychiatrists. Must be firm adherent of some obscure form of psychotherapy, preferably with long German name, that fell out of general use prior to 1930. Should unnerve medical colleagues. Unkempt appearance, aversion to prescription of medications a plus. Office space for storage of creepy knick-knacks provided.
LOCUM TENENS
Multi occasio quicumque abundans tandiu. Commodo perscribo vester atque emitto C.V. (VII) VIV-XXOI an http://www.doctor-jobs-online.com
Remember: Quality Without The Q Is Just Uality!
Menu

More great
gifts!

Makes a great
gift!