HMO Agrees to End Physician Capitation
Physician de-capitation to begin immediately
July 26, 2000
LOUISVILLE, KY—Harmona Healthcare, one of the nation's leading managed care providers, announced that within the next several months, it is planning to move away from its policy of "capitating" physician earnings.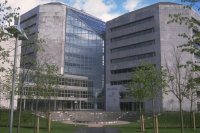 Harmona Headquarters,
Louisville, KY
Under the present policy, physicians are alotted a pre-specified sum of money for the care of each individual patient. However, the system has resulted in tension between doctors' groups, patient advocates, and the HMO.
According to Harmona Healthcare spokesman Lewis Lundstrom, a hard look at the numbers led Harmona to change its reimbursement policy. "While capitation should have worked, there were many complaints from some of the doctors", said Lundstrom. "We're going to de-capitate several of the most vocal right up front, just to take a little pressure off. We'll decide whether to de-capitate all our healthcare providers as events unfold."
Asked whether it was bureaucratically difficult to de-capitate a physician who had been on a capitated schedule, Lundstrom shrugged. "Look, what we do is 'invite' the physician to our 'conference room' down in the basement. We can usually get a physician with an average-sized practice de-capitated in ten to 15 minutes."
Dr. Paul Perry
Dr. Paul Perry, a physician who had been a particularly strident critic of the capitation system, could not be reached by telephone. Dr. Elwin Henderson, Perry's practice partner, was contacted instead. Henderson, who had previously criticized the system, has apparently reconsidered his position.
"Capitation? Oh, I like capitation just fine.", said Henderson. "No problems with capitation here, boy. No, siree, nope, looooooove that capitation!"
Health policy analysts suggest that several HMO's may follow Harmona's lead. While de-capitating physicians would not end the fiscal crisis in health care, it is expected to result some easing of physician criticism of HMO reimbursement schedules.
br>
Remember: Quality Without The Q Is Just Uality!
Menu

More great
gifts!

Makes a great
gift!