Oncologist Cures Common Cold
"GRUMP" protocol causes slouging of infected mucosa
August 9, 2000
BETHESDA, MD—A group of NIH investigators, led by Dr. Jerry Klingfeld, today announced that they had discovered a cure for the common cold, a disease that affects over 70 million Americans each year. Physicians across the country hailed the announcement as a major victory in the fight against illness.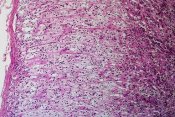 Normal Mucosa
GRUMP is the acronym for a highly toxic protocol that includes high doses of gemcitabine, radiation therapy, uracil, mitomicin C, and paclitaxel. Individuals treated with GRUMP tend to experience resolution of cold symptoms within 24-48 hours, though symptoms attributable to the chemotherapy itself, including a tendency to bleed spontaneously from the ears, and a dark purple discoloration of the skin, may be permanent.
According to Dr. Gary Polowski, a co-investigator, treated individuals slough off all infected mucosal surfaces, leaving the cold virus with nowhere to live.

Mucosa after GRUMP protocol
"We create an incredibly inhospitable environment...we have electron micrographs where it looks like the little viruses are packing up small, suitcase-shaped proteins, and moving on out."
Klingfeld stated that the idea for the GRUMP protocol came to him in the bathtub. "I was lying there one evening when it hit me", he stated. "What does the cold virus infect? Mucosa! So I thought, if we could just eliminate the mucosa, then infection becomes impossible."
"And, as an oncologist, getting rid of mucosa is right up my alley!"
While FDA approval for the protocol may take months, the announcement provided a glimmer of hope for cold-sufferers across the country.
br>
Remember: Quality Without The Q Is Just Uality!
Menu

More great
gifts!

Makes a great
gift!