Stetho-Scopes
Astrology For The Medically Challenged™
August 9, 2000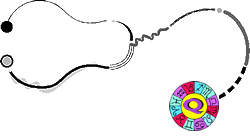 Q Fever! isn't afraid to ask: "Do you believe in magick?"
Studies have shown conclusively that an unquestioning, mindless belief in the occult is an important part of the health and healing process.
And, much as licensed homeopaths do, we submit that the supernatural is in fact realer than what actually makes sense, or has been shown to be true.
Here's proof: Stetho-Scopes.
Aries (March 21 - April 19)
Stressed out again this month? Well, if you haven't figured it out by now, you probably never will. H2-blockers, calcium channel blockers, selective serotonin reuptake blockers… just stop already!! Look in the mirror and see that you are you you... even with those ridiculous Blu-Blocker sunglasses.
Taurus (April 20 -May 20)
You're a daydreamer, and your head's lost in the clouds. You know it, I know it, the whole freakin' world knows it - so cut the denial!! Just try harder to focus when you're driving that ambulance with the sirens blasting or when you're removing a spleen. Next time you may not be so lucky.
Gemini (May 21 - June 21)
Hunger fills your life this month; hunger for life, hunger for adventure, but mostly just hunger for some greasy eats. Best place to look this month is in housestaff conference. Blend in with the interns and snag a couple extra slices o' pizza before anyone notices.
Cancer (June 22 - July 22)
Your ability to communicate with others is at its peak! Now's the time to call your patients and tell them how much you care for them and appreciate their business and support (if they're with one of the higher-paying indemnity plans that is). Also, it's a good time to mention that you're looking especially forward to doing their prostate exam this year.
Leo (July 23 - Aug. 22)
So it's your birthday, and you wanna have a birthday party, but no one else knows or cares. So here's what you do: wait 'til the page operator goes to the bathroom, grab the overhead paging mike, and loudly broadcast your wish to the whole hospital. Don't forget to say how old you are - it'll be a birthday you'll never forget!
Virgo (Aug 23 - Sept. 22)
No Fear. Put yourself in attack mode, and don't look back - you are about to embark on the ride of a lifetime!! But remember to wear your seatbelt, as you'll soon discover that piloting a helicopter isn't quite as easy as it looks, especially when you find youself paralyzed by a fear of falling from great heights.
Libra (Sept. 23 - Oct. 23)
So, your computer broke down. This month, don't fix it yourself. Just sit back, call the Help Desk people, and wait a few weeks. They'll fix it eventually. Meanwhile, use this time to explore the hospital a bit. Ever wonder what's in the Tupperware that's been in the back of the Nurses' Station fridge all year? Ever wonder what it might taste like? Now's your time to find out.
Scorpio (Oct. 24 - Nov. 21)
The sun enters Virgo at the last quarter moon. I'm not sure what that means, but the last time that happened your gall bladder acted up, probably because it's clear that the sun is just using Virgo as a romantic plaything, and Virgo deserves so much more.
Sagittarius (Nov. 22 - Dec. 21)
The moon enters your sign on the 8th. This usually means good parking karma. So wash your Chevy Nova, clean those white-walls and drive right up to the spot closest to the entrance. Congrats, you are employee of the month! (Note: Feel free to blame the moon for your $250 illegal handicapped parking ticket.)
Capricorn (Dec. 22 - Jan. 19)
Others around you have been a little shortsighted, while you find yourself able to see way off into the distance. Trust yourself and your instincts, and if you need a little help with the last line of the chart in the ophthalmologist's office, here's what it says:
Q A T C H T H E F E V E R
Aquarius (Jan. 20 - Feb. 18)
Ah... Aquarius, the water sign, is my favorite. Break water, drink water, pass water, and water your tomatoes. Oh, and boy will the weather be good this month! Sit by the pool, drink a funky-monkey (if anyone knows the recipe please send us an email!), and watch your dreams and aspirations pass you by.
Pisces (Feb. 19 - Mar. 20)
Your intuition is all off this month; meanwhile, your tuition is way past due. It's probably a good month to do an elective, take a sabbatical, or take a vacation. Remember, if you're a healthcare worker without your intuition, you're like a bucking horse without a saddle. Trust me on that.
br>
Remember: Quality Without The Q Is Just Uality!
Menu

More great
gifts!

Makes a great
gift!