Kellogg's Unveils New Eternal-LIFE Cereal
Spiritual salvation now within grasp of breakfast lovers everwhere
August 23, 2000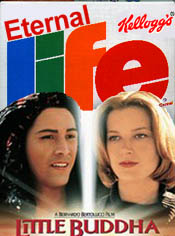 BATTLE CREEK, MI— In a move that many observers say heralds a new era in the cereal industry, Kellogg's announced today that it will begin offering Eternal-LIFE cereal to consumers as early as Fall 2000.
Kellogg's spokesperson, Shafra Hochhauser, said in this morning's press conference that company scientists have been working on the formula for about 32 years with Dow Chemical, another Michigan multinational.
"We created this cereal so that all Americans can have a chance at Eternal-LIFE," said Hochhauser, "no matter what other cereals they may have eaten in the past."
Kellogg's Eternal-LIFE Commandments
1. Thou shalt eat no other cereal but Eternal-LIFE
2. Thou shalt not worship Count Chocula
3. Thou shalt realize that Trix are not for kids, for adults, NOR for rabbits
4. Thou shalt honor thy crunchy flakes with a touch of honey 'n' oats
5. Thou shalt not spill thy milk, nor cryeth about it shouldst it happen
6. Thou shalt not looketh at the Table of Nutritional Content
7. Thou shalt flush out thy kidneys with large amounts of fluids after eating Eternal-LIFE cereal
8. Thou shalt not drinketh both milk and orange juice in the same sitting as the combination willst curd in thy stomach
9. Thou shalt disregard the fact that Eternal-LIFE comes with no free toy
10. Thou shalt purchase the economy size box of Eternal-LIFE for substantial savings
Hochhauser cited the growing number of cereal brands now available to breakfast lovers as a portent of moral and spiritual decay in our culture and civilization.
"Following the release of Eternal-LIFE, Kellogg's plans to shelve all of its other cereals, including the popular, but secular, Raisin Bran and Frosted Flakes brands," said Hochhauser.
" Eternal-LIFEis the way and the truth, with a taste of honey 'n' oats... [we] want to make it clear that no other cereal offers the combination of crunchy goodness and everlasting salvation that Kellogg's Eternal-LIFE does."
Several critics have denied, on at least three separate occasions, having any knowledge of Eternal-LIFE cereal, or that its existence was even a possibility. Others, however, have praised the new cereal, calling it "Our Whole-Grain Savior."
In a brief comment to reporters after today's press conference, Hochhauser expressed confidence in Eternal-LIFE's chances of success in the increasingly flashy and no-holds-barred world of morning consumables.
"$3.16 a box, along with a pledge to forsake all other cereals - that's not a lot to ask for in return for Eternal-LIFE, is it?!"
br>
Remember: Quality Without The Q Is Just Uality!
Menu

More great
gifts!

Makes a great
gift!