Researchers Stage Strike Over Publication Requirements
"Blinding" excessive, unEcessary, say leaders
September 6, 2000
BOSTON, MA—On Friday, researchers across the U.S. and Canada went on strike to protest publication requirements for major medical journals which encourage the practices of blinding and double-blinding.
Dr. Sylvia Platser, one of the most vocal leaders of the proposed two-to-three-month strike, stated during a press conference this morning that, although plans for such a protest had been discussed for some time, a deciding factor was an editorial published in the highly-regarded New England Journal of Medicine on June 22, 2000.
The editorial pointed out the weaknesses of "observational" studies, and suggested that randomized double-blinded placebo controlled trials were the only unbiased estimators of treatment effect. Moreover, it cautioned against what it perceived as a trend towards observational-type studies.
"That's all fine and dandy," said Platser, "but what about the major morbidity that researchers have to bear in order to complete a blinded study?!"
Nurses Have Few Options
Research nurses have long complained that participating in studies which incorporate blinding, while increasing the likelihood that these studies will be published in medical journals such as the New England Journal and JAMA, insidiously and inevitably and shortens their effective careers.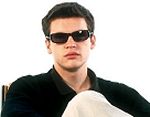 Mark Sidford, RN
Mark Sidford, a research nurse in Anchorage, said that he had his eyes "completely damaged" for a large blinded study several years ago and has not been able to find work in observational studies since then.
"I can do blinded studies still," said Sidford outside his lab, "but that's it. It significantly limits my options."
Sidford also noted that nurses are rarely given credit for authorship, leaving them blinded without the recognition afforded to the physician authors as a result of journal publication.
Radiologists Hardest Hit
Physicians, however, have also been affected by the permanent ocular damage that is often required to participate fully in blinded and double-blinded studies. While many opt to continue their careers following one to two years of federally funded training in Braille, others are not so lucky.
Blinded surgeons have generally been unable to partially or fully return to their medical livelihoods, although some have been able to find work doing occasional wood carving and carpentry.
Radiologists have not fared as well. "Most of us have spent many years refining our visual skills only to be out of work", said Dr. Seymour Bollock, a retired radiologist from Indiana.
"I've got nothing good to say about blinding...," he continued. "[I] was just few years out of training when a research mentor asked me to head up a large study comparing CT and MRI for the diagnosis of brainstem infarcts. You know what? I got single-blinded, double-blinded, everything. When I was done I couldn't get work anywhere."
"Who the hell is going to hire a double-blinded radiologist?!?!"
Looking For Middle Ground
Dr. Platser has long advocated observational studies as a way to save physicians' and nurses' careers, while still providing adequate answers about the efficacy of medical treatments.
"I feel that medical journals ought to relax the requirement about blinding and accept randomized placebo-controlled trials for publication. [Journals] have taken the stance that a more accurate odds-ratio is more important than a researcher's career, and that is not a position I see eye-to-eye with."
br>
Remember: Quality Without The Q Is Just Uality!
Menu

More great
gifts!

Makes a great
gift!