Big Bird Affliction Heralds West Nile Spread
Loveable yellow creature reported ill as virus appears on Sesame Street
October 4, 2000
BROOKLYN, NY—New York Mayor Rudy Giuliani, along with Public Health Commisioner Antonia C. Novello, appealed for calm today as the dreaded West Nile virus claimed its first victim in this borough's historic Sesame Street district.
According to long-time resident Luis, the first sign of the virus' appearance was Big Bird's development of a fever and headache, followed by his inability to recite the alphabet, a task that he had reportedly mastered (with help from Maria and Dave) almost 20 years ago.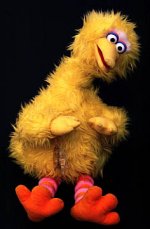 Big Bird remains in a coma
Bird was admitted to Sesame Street Presbyterian Hospital's neurological intensive care unit on Monday, and remains in a coma, despite earlier assurances by virologists that the virus would not pose a major threat on Sesame Street, as the virus generally attacks older adults.
"Most of the 75,000 people and muppets who live in the Sesame Street area are under the age of ten," reported Kermit D. Frog, Sesame Street News Bureau correspondent. "Either that, or they're adults frozen in time, in some sort of child-like state of extreme innocence."
Local residents have been quick to point fingers at Oscar The Grouch, a cantankerous green monster who lives in a furnished garbage can.
According to muppet Ernie Cohen, Oscar's home had become filled with pools of stagnant water, which had provided a breeding ground for the Culex mosquitoes which spread the virus.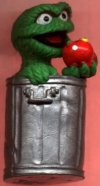 Oscar The Grouch
"Also, people on the street have been concerned for some time that Oscar's trash can was in violation of local zoning laws", said Bert Jamieson, Ernie's long time partner.
"Unfortunately, several of the police officers who patrol the street are the kind of muppets who have no eyeballs, and that's basically given Oscar and [fellow grouch] Grungetta carte blanche to totally neglect their trashcans."
An attorney representing Mr. Grouch did not return phone calls. Mayor Giuliani announced at a press conference today that any residential trash-cans found not in compliance with local zoning laws would be overturned or emptied.

Remember: Quality Without The Q Is Just Uality!
Menu

More great
gifts!

Makes a great
gift!