WHO Announces Eradication Of Anthrax
Eradication of other hazardous rock acts to follow
November 29, 2000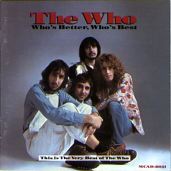 The Who
WEMBLEY, ENGLAND–The WHO, one of rock music's oldest and most revered bands, announced yesterday that a fifteen-year effort to eradicate heavy metal icons Anthrax has been completed.
According to WHO lead guitarist Pete Townsend, the final remaining traces of Anthrax were located in a bargain bin at Nobody Beats The Wiz in Fort Lee, NJ, and were subsequently destroyed by WHO roadies.
"I reckon that's the last we'll be seeing of the blokes," said Townsend, best known for his trademark "windmill" power chords, marginal songwriting skills and weak vocal abilities.
Roger Daltrey, the WHO's lead singer, added that one copy of every Anthrax release remains quarantined in The WHO's Wembley recording studios, though it is widely believed that Cuba's Fidel Castro and Iraqi leader Saddam Hussein independently maintain fully stocked Anthrax LP collections.

Anthrax LP
"[Such] copies might indeed present a certain degree of danger in the event of an escalated conflict or war between our nations," said Daltrey, "but the use of weapons as brutal and terrifying as Anthrax is currently beyond the limits of conduct for even the most villainous of states."
"Nevertheless," said bassist John Entwhistle, "effective defenses, including earplugs and/or covering one's ears with one's hands, must be implemented and quickly deployed."
Other hazardous pop/rock acts slated for eradication include Megadeth, Eminem, and Billy Joel.

Remember: Quality Without The Q Is Just Uality!
Menu

More great
gifts!

Makes a great
gift!