Earthquake Threatens Seattle Area Hospitals
Damage to Starbucks leaves medical personnel sleepy, cranky
March 7, 2001
SEATTLE, WA—An earthquake occurring on February 28, 2001, measuring 6.8 on the Richter scale, has paralyzed Seattle-area hospitals.
The damage to local coffee outlets, and the resulting shortage of caffeine, has reportedly "sapped physicians, nurses, and other healthcare workers of any motivation to work whatsoever." Individuals who do arrive for work are described by onlookers as "irritable and slow-witted."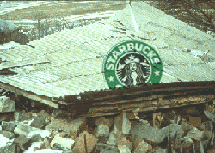 Earthquake Damage
Particularly hard-hit have been medical interns and residents, for whom coffee, sugar, and non-dairy creamer often constitute the only available nutrients.
"It's been really scary," said emergency room nurse manager Deidre Phillips of Harborview Medical Center. "During the overnight shift, staff were just dropping left and right; people can't even hold a pen. We had a staff physician climb into bed with a patient, spoon up with the guy, and fall fast asleep."
Medical teams report that rounds, which often take as little as 2-3 hours, are now stretching to over 15 hours, with team members often forced to drag one another along by neckties, hair, or stethoscopes.
Surgical rounds, which typically begin at 5:30 am, are now starting at 10:15 am, cutting into crucial operating room time. Surgeons who do reach the O.R. are reported to be staring blankly at anesthetized patients, unsure of exactly what to do next.
Dark-roast coffee drop
Federal Emergency Management Agency chief Joe Allbaugh confirmed reports that several "tanker" planes, typically used to fight forest fires, will be used to drop critical dark-roast coffee on all Seattle medical areas.
Hospital staff will be informed of the timing of drops, so that they can go outside and hold up a styrofoam cup to catch the precious brew.
Commenting on the risk of burns due to coffee splashes, Allbaugh confirmed that, although a concern, it is felt to be outweighed by the importance of government assisted caffeine provision.
"We're telling all personnel: Caution, the beverage that is about to be rained down upon you is extremely hot."
Remember: Quality Without The Q Is Just Uality!
Menu

More great
gifts!

Makes a great
gift!