Thanks For Removing Your Sock
Cotton fragments, flaky skin crusts have been inhaled through my nose and mouth
April 10, 2002
NEW YORK, NY--Thank you so much for removing your sock just now. The way you whipped it off really was spectacular.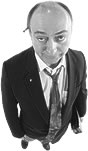 Dr. Mort Kandless
By pulling it from the toe end and allowing it to S-T-R-E-T-C-H until it snapped from your foot like an elastic band, you've released a delightful cloud of particulate matter that continues to spread outwards in all directions.
And oh, the aroma is just marvelous!
I can feel some little flakes of crusted scale entering my nose now. They probably came from that fungus growing on your toenails! Soon, these delectable tidbits will become a permanent part of my airways and lungs. Hooray!
And how can I forget to mention the sweat-drenched fragments of cotton that have landed on my tongue and soft palate. I will be savoring the taste long after you've left my office. Long after, indeed.
The other foot? Well, of course I want to see that one too! No, don't worry that I'm still examining the first one. Just because my face is near, doesn't mean you shouldn't whip the other sock off right this second! Ready? Wait till I start inhaling. Now!
Well, you did it! What a fine day at the clinic, all because of you. And the best part is, your presence in this room will be appreciated by the next patient after you, and the next after that. They'll be thanking you too, for sure!

I'm Dr. Mort Kandless and ... That's what I think.
Mort Kandless, MD is an internist and attending physician at Jericho Yeshiva Medical Center, New York, NY. The views expressed in this article do not necessarily represent those of Q Fever!, its editors, or its writers.
Remember: Quality Without The Q Is Just Uality!
Menu

More great
gifts!

Makes a great
gift!