Foreign Medical Graduate Accepted Into Psychiatry Residency
Joins nine other non-English speaking interns
April 23, 2003
FRESNO, CA—For Dr. Jung Kim Hyun, the dream of a lifetime has been fulfilled. A graduate of South Korea's Chungnam University Medical School, and previously a practicing orthopedic surgeon in Seoul, Hyun was accepted into Fresno Medical Center's three-year Psychiatry residency program this past month.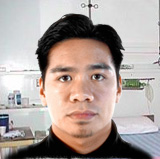 Dr. Jung Kim Hyun
Hyun, who emigrated to the United States four years ago and quickly completed his ECFMG requirements, had been unable to secure a spot in medical or surgical residencies here despite numerous prior attempts. This year, however, with the Fresno program failing to fill any of its ten available Psychiatry spaces through the NRMP Match, Hyun was able to obtain a spot merely by contacting the program director via e-mail.
He will be joining nine other FMG's, coming from such diverse places as Turkey, Saudi Arabia, Nigeria, Argentina, Mozambique, and the Ukraine.
Speaking through a translator, the 36-year-old Hyun states that he is "very happy to become an American psychiatrist," and that "it's what I always wanted to do."
"We've got lots of confidence in our new interns," says Dr. Mark Maloney, Fresno Medical Center's CEO, "After all, if it weren't for interns, how could we afford to get blood drawn and IV's started? And while it's true they may not know much English, we know they'll pick it up soon."
"Besides," he continues, "as far as I'm concerned, most of Psychiatry involves simple phrases such as 'I see,' and 'Tell me more,' along with non-verbal types of cues like shaking and nodding the head at appropriate intervals. These guys'll be fine."
Hyun and his colleagues start on the Medicine, Neurology, and Psychiatry wards this July.
Remember: Quality Without The Q Is Just Uality!
Menu

More great
gifts!

Makes a great
gift!