CDC Issues Guidelines for Safe Preparation of Gulf Seafood
Thousands download recipes from CDC website
October 5, 2005
ATLANTA, GA—In an attempt to quell public concern over the safety of consuming seafood from the Gulf of Mexico region in the wake of Hurricanes Katrina and Rita, the Centers For Disease Control (CDC) has issued a series of guidelines and recipes that officials say will allow the continued consumption of Gulf clams, oysters, and shrimp.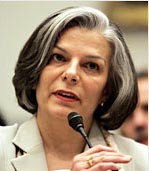 CDC Director
Dr. Julie Gerberding
The guidelines, based loosely on material derived from CDC Director Dr. Julie L. Gerberding's dog-eared copy of "The Moosewood Cookbook," were posted on the CDC's website on Monday.
"I love seafood, and so do the American people", said Gerberding at a hastily called press conference late Monday night. "These recipes include some long-time personal favorites; they're easy to prepare and there's not much washing up afterwards. We just added a few simple steps and ingredients that will allow folks to eat Gulf seafood safely and with confidence."
The site had reportedly registered more than 300,000 hits by the next morning, and by late Tuesday, the piquant aroma of beloved Cajun specialties like Shrimp Jambalaya, Crawfish Bisque, and Oysters Rockefeller was noted to be wafting though the Gulf air.
The CDC's recipe for Clams a l'Autoclave appeared to be particularly popular, having been downloaded by over ten thousand anxious, hungry citizens within hours of its posting on the website. [See below for full text of recipe.]
"Rebuilding the devastated communities of the Gulf Coast may take years, possibly decades," said Gerberding, as she dabbed remoulade sauce from the corners of her lips. "And undoubtedly, the stagnant, sulfurous waters now in the lakes, rivers, and the Gulf itself are highly toxic, and are likely to contain gasoline, diesel, anti-freeze, bleach, human waste, industrial waste, and all manner of chemical pollutants."
"But that's no reason to delay enjoying one of the area's greatest natural resources - its seafood! And with our new guidelines, now everyone can once again fire up the grills. J'ai faim ... laissez-moi manger!"
Clams a l'Autoclave

From the Centers For Disease Control

Ingredients

3 cups 1/2-inch diced potatoes
cups fresh chopped surf clams
3 cups clam stock
2 cups New Orleans floodwater
2 cups of 25% glutaraldehyde solution (Cidex® or Sporicidin®)
4 oz. butter
1/2 cup flour
1/4 cup minced onion
1/4 cup minced celery
2 tablespoons minced garlic
Salt as needed

You will also need:

Eye protection
N-95 respirator
Latex or vinyl gloves
2 large autoclaves
Tyvek® suit
Cute chef hat and matching apron (optional)

Instructions

Preheat/pressurize one autoclave to 700 degrees Farenheit/12 atmospheres of pressure.
Add glutaraldehyde and potatoes and bring to a boil. **AVOID DIRECT INHALATION OF FUMES**
Add clams and simmer until potatoes are tender.
In a second autoclave, melt butter.
Pour butter into a stock pot and add onions, celery, and garlic; sauté until onions are transparent.
Slowly fold in flour, stirring. Remove clams from first autoclave and mix all ingredients under a NIOSH-approved fume-hood, adding hot clam stock, floodwater, and leftover glutaraldahyde through a strainer one cup at a time; whisk until smooth.
Add the remaining potatoes, clams, and stock; bring to a simmer. Clams are done when majority "pop" open.

Suggested presentation: Serve in rustic earthenware bowls with crusty Provencal bread. Garnish with parsley and two tabs of levofloxacin (500 mg) or doxycycline (100 mg). Serves 6.
Remember: Quality Without The Q Is Just Uality!
Menu

More great
gifts!

Makes a great
gift!