Ask Dr. Q!
Advice you need, from a stranger you trust.™
June 28, 2000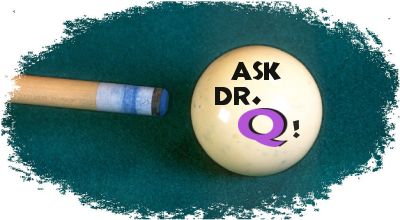 Dear Dr. Q,
Here's a question that's been bugging me for a long time now; maybe you can answer it for me: How come Tiger Woods looks so funny without his hat on? - Anonymous
Dear Anonymous,
That's a good question, especially coming from you, Dr. Gil Morgan, particularly since you're likely still upset about your non-showing at the recent U.S. Open. Dr. Morgan, we all know that you hold a Doctor of Optometry degree, but have never practiced. Well, now that Tiger's finally playing his "A-game," perhaps it's time you and your buddies gave up golf and resumed your previous careers. Take care and all the best to you! - Dr. Q
Dear Dr. Q,
I've got this funny sensation "down there" and I was wondering what I should do about it? - Itchy
Dear Itchy,
First of all, giving medical advice over the internet is a complicated and tricky business. I have not examined you, and I know nothing about your past medical history or allergies to medications. I don't even know if you're male or female! But be that as it may, what I've found in my personal experience is that when a person gets completely bloated, he or she tends to have very little sensation outside of their massively distended abdominal region. So order yourself a large pizza and guzzle it as fast as you can, then toss back a few brews before passing out on the couch. Take care and best of luck to you! - Dr. Q
br>
Remember: Quality Without The Q Is Just Uality!
Menu

More great
gifts!

Makes a great
gift!