Infectious Disease Society Names Alanis Morisette New National Spokesperson
Singer-songwriter to change unhygenic lyrics
July 12, 2000
BOSTON, MA—In a long-awaited announcement, the American Society of Infectious Diseases (ASID) has named singer-songwriter Alanis Morissette their new national spokesperson.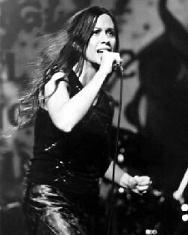 Alanis Morissette addresses
the ASID convention
Dr. Alexandra Waldredge, chairperson of the ASID spokesperson search committee, revealed the unorthodox decision during an afternoon plenary session Tuesday in Boston.
When asked why the dissonant musician, who has already begun her inevitable fade into pop oblivion, was tapped for the ASID's most important public relations post, Dr. Waldredge explained "well, if you don't know, then you clearly haven't heard the song 'Thank You' with those incredible lyrics 'how bout getting off those antibiotics,' and, besides, 'Isn't It Ironic' that she isn't even an American citizen?"
Although it had been rumored for some time that the inexplicably successful tunesmith might be appointed ASID spokesperson, controversy erupted last week when it was revealed that the singer had "recommend[ed] putting your foot in your mouth at any time" on her 1996 album Jagged Little Pill.
Several members of the ASID governing counsel objected to Morisette's recommendation as being unhygenic.
Morissette's attorney, Barry Fishkewitz, confirmed that she will modify the lyric to: "I recommend washing your foot thoroughly with soap and water, for at least 5 minutes, before putting it in your mouth at any time", which "will deliver a message that is more in accord with that of the ASID".
The ASID had been without a national spokesperson since Kurt Cobain's untimely death in 1995. Cobain, a well-known Infectious Diseases enthusiast, was chosen after his band Nirvana released a song with the lyrics "I feel stupid and contagious; here we are now - entertain us."
Asked by a member of the press why the search committee had delayed so long in naming Cobain's replacement, Dr. Waldredge exclaimed "a denial... a denial... a denial... a deniaaahhhhl."
Alanis Morissette could not be reached for comment.
br>
Remember: Quality Without The Q Is Just Uality!
Menu

More great
gifts!

Makes a great
gift!