Borborygmi Translated Into English
Cryptic Intestinal Bowel Sounds Deciphered At Last
July 26, 2000
Los Angeles, CA—Researchers announced Wednesday that Borborygmi, the enigmatic language of the digestive system, has been completely translated into English after a twenty-five year multidisciplinary effort.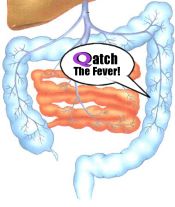 The large intestine speaks
Although the existence of Borborygmi, also known as "bowel sounds," has been known for decades, their function as a form of communication not realized until 1975, when it was discovered that the pattern of audible "growlings" produced by the digestive tract could be predicted with startling accuracy in any given situation.
In the ensuing effort to decode the language, which linguistic experts believe to be derived from Monkey Borborygmi, significant milestones have included the unearthing in 1984 of twelve layers of intestinal ruins at the hepatic flexure, and corroborating evidence found at the cecum in 1993 suggesting a global alimentary conflict from 5243-5120 B.C.
However, the language itself remained undeciphered until 1996, when the so-called "Coletta Stone" was discovered in the gall bladder of a woman with fever, right upper quadrant pain, and a positive Murphy's Sign.
Useful Borborygmi Phrases

Borborygmi
English
Rrrr
Feed me
Srerrr
Feed me Seymour
Whhiff
How 'bout those Mets
Wwshhh
George Michael is WHAT?!?!
Werpah
Well, I guess it does explain a lot of things
Lub-DUB
That's the heart you idiot
Blürp
Why are there so many rainbows, and what's on the other side
Oooolp
Les Mis was definitely better than Miss Saigon
Url
http://www.qfever.com/
Glup
Heave ho!
Inscribed on this stone were poem fragments in two different dialects of Borborygmi, along with a translation of the same poem into Latin.
According to linguists, this discovery was the chief breakthrough leading to the complete translation of Borborygmi into English.
"Without the Coletta Stone, this beautiful and mysterious language would have remained a mystery to us forever," said lead investigator Aaron Bloomfield, PhD. during Wednesday's press conference.
"Now, it's finally possible for human beings to discuss current events, sports, or the weather with their own sigmoid colons, or to have the terminal ileum call 911 on its own during serious flare-ups of Crohn's Disease."
Plans are underway for a Borborygmi Bible, a "See It & Say It In Borborygmi" series for children, and a Borborygmi version of the Beatles' "Let It Be."
br>
Remember: Quality Without The Q Is Just Uality!
Menu

More great
gifts!

Makes a great
gift!