ResusciAnnie™ Found Unresponsive in Motel Room
"Shake and shout" fails to revive famed mannequin
July 26, 2000
ABILENE,TX—ResusciAnnie™, the internationally renowned rubber woman who helped pioneer cardiac life-saving instruction, was found unresponsive in a motel on the outskirts of Abilene early this morning.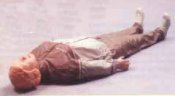 Last known photograph of
ResusciAnnie™ alive
Paramedics arriving at the Lone Star Motel at 3AM today were unable to revive her, despite a prolonged trial of chest compressions, rescue breathing, and jaw lift/tongue sweeps.
Local police suspect that her apparent demise may have been the result of alcohol abuse; in particular, ResusciAnnie™, or "Annie," as she was known to fans around the world, was said to have grown addicted to the alcohol swabs commonly used by students to wipe goobers off her mouth.
A mannequin in the window of a local Sears store, who identified herself as a relative, said that ResusciAnnie™ had become increasingly withdrawn and isolated in recent years, following the introduction of computer simulation programs and more sophisticated mannequins that allow students to practice IV insertion and defibrillation.
Paramedic Warren Tubbs was overwhelmed by the death of the historic figure. "We got an anonymous call early this morning, but didn't know it was ResusciAnnie™," said a tearful Tubbs.

Resuscitation
attempts were
unsuccessful
"When we got there, though, I recognized her immediately, because of her unisex nylon clothing, the synthetic moulded hair, and the fact that her hard plastic carrying case was lying on the bed next to her. I said 'Annie, Annie, are you O.K.?', just as I was trained to do, and began compressing her springy artificial sternum."
"We really weren't optimistic about getting a pulse, because she'd been down a while, and also she doesn't actually have blood vessels."
President Clinton, who flew home from the G-8 Economic Summit in Okinawa on receiving the news, called it "a sad day for America". White House spokesman Joe Lockhart said the President paid silent tribute to ResusciAnnie™, then called for the creation of a "National Dummy Corps", which would allow young people to receive college tuition in exchange for undergoing repeated mouth-to-mouth resuscitation, chest compressions, and Heimlich maneuvers during cardiac life saving courses.
Senate Republican Leader Trent Lott referred to the Dummy Corps idea as an election year ploy. According to Lott, "The Clinton-Gore administration want to buy the votes of dummies across the country with the hard-earned money of American tax payers". Dummies have long been regarded as a voting block loyal to Lott and House Republican Leader Dick Armey.
br>
Remember: Quality Without The Q Is Just Uality!
Menu

More great
gifts!

Makes a great
gift!