Sexual Healing Endorsed by American Heart Association
Other R&B standards also being evaluated
August 23, 2000
WASHINGTON, DC—Officials at the American Heart Association (AHA) stated Tuesday that they now endorse various techniques of "Sexual Healing" (SH) as initially described by the late singer Marvin Gaye. The announcement came as a surprise, since previous guidelines had suggested that SH could be detrimental to those with cardiac disease.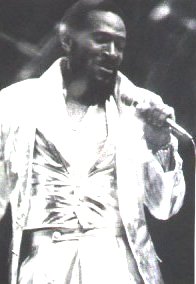 Marvin Gaye
A recent trial undertaken by the AHA comparing SH versus standard therapy showed that 60% of individuals in the SH arm were able to hold "it" longer and stronger, and reported "feelin' soooo fine [with] easin' of [the patient's] mind."
In contrast, feelin' fine with easin' of the mind was seen in only 15% of individuals randomized to therapy with Surgilube and a back-issue of AMA News.
AHA officials say they have hired consultants to help streamline their recommendations. "We realized just how rigid we were being by ignoring this alternate form of therapy," said Harold Kurwalsky, MD, president of the AHA.
SH expert Derek "Rock Ya' Body" Player, who has participated in a similar capacity for several other adult organizations since the late Sixties, told reporters that "...[I] recognize the importance of the hyper-catecholamine state induced by sexual healing, but the bottom line is that we all got to be gettin' our groove on. Peace."
Player added that he had recently completed "interesting" preliminary data which suggests that a low dose beta-blocker before and after sex can limit the risk of peri-sexual cardiac events.
"Forget about yo' ejection fraction, chil'ren... [it's] all about yo' erection fraction - baby, can you feel me now!," he continued, flashing his trademark million dollar platinum smile, and proffering a high five, followed by a handshake, a thumblock, a reverse elbow cross and finally a hug.
Other analysts involved say they are investigating the proper musical tools to implement SH. In addition to Gaye's "Sexual Healing," the FDA is currently testing prescription strength versions of other Soul/R&B standards.
Unfortunately, a number of patients have been afflicted with the rare but fatal Wolf-Parkinson-Barry-White syndrome, and the FDA is expected to deny approval for many of Mr. White's songs. Enthusiasm for work by other artists, however, remains high.
"We've had a lot of positive results with Luther Vandross, and he seems have the same effect on erection fraction as Mr. White, without the associated tachycardia."
br>
Remember: Quality Without The Q Is Just Uality!
Menu

More great
gifts!

Makes a great
gift!