Back Pain
September 6, 2000
Each issue, Q Fever! presents a challenging clinical conundrum to test readers' problem-solving skills and illustrate bread-and-butter medical principles. Good luck!
A 48 year old male is seen in general medical clinic for the chief complaint of back pain, which began 2 weeks ago during a trip to the Adirondack Mountains in upstate New York.
The patient denies trauma or having lifted unusually heavy objects, and states the pain is concentrated in his mid-to-upper back bilaterally.
Symptoms are described as a "heaviness and a soreness," and are worst in the evening, but appear least noticeable when he lies flat on his stomach.
Of note, the patient is only able to lie prone or on his side; he is unable to lie on his back due to excessive discomfort.
The patient states he has had more fatigue than usual, and has been noted by family and close friends to seem "odd, like there's something we can't put a finger on."
He denies fever, rash, vomiting, constipation, diarrhea, or abdominal pain.
Motrin and Tylenol on an as-needed basis has resulted in fair pain control, "but it always comes back."
He now presents for further evaluation and management.
On exam, he appears well-developed and well-nourished, in no apparent distress.
Vital signs are unremarkable.
Head & neck, throat, chest, heart, abdomen, and neuro exam are all within normal limits.
Laboratory studies, including urinalysis, are normal.
A close inspection of his upper back with a magnifying glass reveals the following: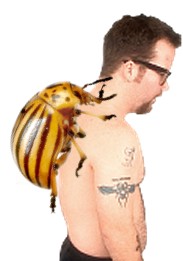 What's going on?
---
Answer:
Dog Tick
This man has a dog tick on his upper back. This tick, so named because it is approximately the size of a small dog, is a frequent cause of upper back pain in residents of, and travelers to, certain areas of the United States.
Typically, patients will present with heaviness and soreness in the mid-to-upper back, due to the fact that the typical dog tick weighs between ten to twenty pounds (4.5-9 kg).
It is often difficult to detect the presence of such ticks with the naked eye, and a detailed examination with a magnifying glass is sometimes necessary. A high degree of clinical suspicion is indispensable.
Treatment involves removal of the tick with tweezers, along with a fourteen day course of oral doxycycline (as these ticks are carriers of pathogenic Rickettsiae sp.)
Prevention involves wearing ample amounts of thick clothing and OFF! insect repellent, and avoiding areas where these pesky insects live and breed.
br>
Remember: Quality Without The Q Is Just Uality!
Menu

More great
gifts!

Makes a great
gift!