Case Studies: Fatigue and Joint Pain
August 23, 2000
Each issue, Q Fever! presents a challenging clinical conundrum to test readers' problem-solving skills and illustrate bread-and-butter medical principles. Good luck!
You are a 31 year old male with no significant medical history who presents to medical clinic for a chief complaint of fatigue and joint pain intermittently during the past several years.
You describe your fatigue as being worst in the evening, several hours after dinner. It resolves with rest, and does not appear again until the following night.
Your joint aches are described as occuring in your ankles, knees, shoulders, neck, and back bilaterally, and are at their most severe several hours to one day after playing basketball, roller hockey, or lacrosse.
These, too, resolve fairly rapidly, and never occur when you do not engage in strenuous athletic activities.
You deny fever, nausea, vomiting, constipation, diarrhea, or abdominal pain.
Past evaluations for similar symptoms, including complete blood work, x-rays, head CT, echocardiogram, ultrasound, and excercise stress test have been negative.
You now present for further evaluation and management.
On exam, you appear well-developed and well-nourished, in no apparent distress.
Vital signs are unremarkable.
Head & neck, throat, lungs, heart, abdomen, and neuro exam were all within normal limits.
Laboratory studies, including urinalysis, are normal.
A brain biopsy shows the following: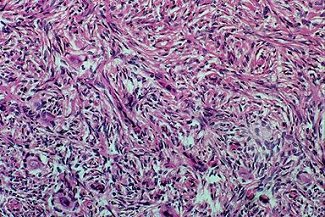 What's going on?
---
Answer:
Nothing
Nothing is wrong with you. Your symptoms are all normal. Your exam is normal, your labs are normal, and, for crying out loud, your brain biopsy is normal.
This condition, known as "Normal," is a condition that you have probably had for a long time. It affects millions of people in the United States and in the world, and you are one of them.
The diagnosis is made by noting that there is absolutely nothing unusual or interesting about anything in your history or physical, or in the ensuing workup.
The absence of any sign or symptom that could even remotely be construed as abnormal is pathognomonic for there being nothing wrong with you.
The proper treatment of this condition includes good food and regular bowel movements.
br>
Remember: Quality Without The Q Is Just Uality!
Menu

More great
gifts!

Makes a great
gift!