Prescriptions For Success No Longer Covered By HMO
Fair-to-middlin' mediocrity to remain on formulary
November 1, 2000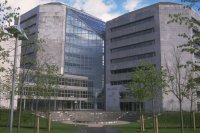 FullCare Inc., br> Dallas, TX
DALLAS, TX—Representatives of FullCare Inc., a Dallas-based HMO, stated today that beginning January 2001, prescriptions for success will no longer be covered under the majority of their available health plans.
Instead, FullCare members will be given the option of paying the high price of success out-of-pocket, or of accepting generic mediocrity, which FullCare has pledged to keep on its formulary.
Handy Guide To
Hospital Corporate Sponsorship

Success:
$5272
Fair-to-Middlin':
$0.50
"A lot of people think success will somehow make them very happy," said FullCare spokesperson Tom Prenalt. "We here at FullCare, however, feel strongly that the average American can be quite content with fair-to-middlin' results from life, and we're committed to making that dream a reality."
Also to be deleted from the FullCare formulary include prescriptions for health, prescriptions for happy families, prescriptions for marital bliss, and prescriptions for fair, honest righteous living.

Remember: Quality Without The Q Is Just Uality!
Menu

More great
gifts!

Makes a great
gift!