Stethoscopes
Astrology For The Medically Challenged™
March 7, 2001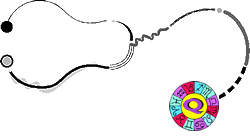 Q Fever! isn't afraid to ask: "Do you believe in magick?"
Studies have shown conclusively that an unquestioning, mindless belief in the occult is an important part of the health and healing process.
And, much as licensed homeopaths do, we submit that the supernatural is in fact realer than what actually makes sense, or has been shown to be true.
Here's proof: Stetho-Scopes.
Aries (March 21 - April 19)
Gifts will be bestowed upon you with basically little or no effort on your part. Everything's going your way. Yes, some of you will have birthdays this month, and yes, some of the gifts will be birthday gifts, but at least some of you will get gifts for just being you.
Taurus (April 20 -May 20)
Your best friend just got a new Volkswagen Bug. I know you're a little jealous, but you'll get over it eventually. Just remember: your time will come, and when it does, you'll have a far nicer car to tool around in. I bet you'll finally get a hold of your grandma's 1978 Cadillac, and won't you be just the coolest. Think whitewalls.
Gemini (May 21 - June 21)
You might think I'm crazy, to hang around with you, and maybe you think I'm lucky, to have something to do. But I think that you're wild, and inside me is some child. You might think it's foolish, or maybe it's untrue, you might think I'm crazy, but all I want is you. Just don't tell anybody else.
Cancer (June 22 - July 22)
The tracks of your tears are causing great facial disfigurement, although none of the lines are permanent. Perhaps you should purchase a good French cream moisturizer and spoil yourself a bit. You are worth it, every penny. Still, you could talk to your dermatologist and get a prescription; the $5 co-pay can go a long way.
Leo (July 23 - Aug. 22)
You just got a job in Canada, but the Canadian dollar is, how shall I say, wimpy. One thing that many Canadians are doing to get by is purchasing Mcdonald's Big Macs in Canada at discount prices and then selling them across the border. But if this is your way to wealth, You should be warned about E. coli 0157-H7. You better get liability insurance.
Virgo (Aug 23 - Sept. 22)
That large boil on your leg is getting mighty painful. Soaking, squeezing, and popping can only go so far. Reminds me of a Journey song "Lovin', Touchin, Squeezin," but that's another painful story, for another time.
Libra (Sept. 23 - Oct. 23)
Your PR interval may be a little prolonged, but you can't blame it on grapefruit juice alone. Check your medications, make a list and go to your doctor right away! Right now! I mean it! Get lost! Later! Outta here! Gonzo!
Scorpio (Oct. 24 - Nov. 21)
What's your favorite space shuttle? Is it Discovery, Atlantis, Columbia, Endeavor, or Pathfinder? I would say that, for you, it's probably Discovery, since you are so inquisitive. Although I also see you as a pathfinder in search of an endeavor that will lead you to find your own private Atlantis. Too bad you live in Columbia.
Sagittarius (Nov. 22 - Dec. 21)
Everybody's smoking, but no one is getting high. People everywhere, just learning how to cry. And small children without vaccines, will surely begin to die. And you just sit there in your room, and never wonder why.
Capricorn (Dec. 22 - Jan. 19)
You're in search of a mate. Well perhaps you should go bowling or head off to the library. It all depends on what sort of mate you're looking for. One with a sweet polyester shirt and a large dense piece of spherical plastic, or one that can sit peacefully in a room and just read, quietly? It's a tough call.
Aquarius (Jan. 20 - Feb. 18)
Ah... Aquarius, the water sign, is my favorite. You almost bought that set of six chairs last week, didn't you. But $1500 each to get them re-caned sounds a bit steep. I guess you should go back to playing the lottery, since no academic job will ever pay you what you deserve. Try 11 22 37 40 44 47.
Pisces (Feb. 19 - Mar. 20)
So, you have more children than publications. All that means is that your spouse is working harder than you are. Just sit down at your computer or typewriter and begin to type. Type, type, and type until your fingers tell you to stop, and then submit the article, and all will be well.
Remember: Quality Without The Q Is Just Uality!
Menu

More great
gifts!

Makes a great
gift!