Stem Cell Debate Almost Interesting
Could someday capture small part of nation's attention
August 1, 2001
PALO ALTO, CA--As the debate surrounding the use of stem cells in biomedical research continues to simmer, a new study suggests that a surprising majority of Americans could one day become interested in the controversy if sufficiently bored, or if lacking something better to think about.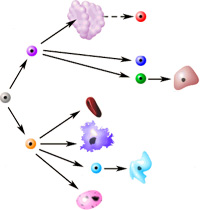 Stem cells. Whatever.
The survey, conducted by Stanford Medical Center, also revealed that up to 40% of the respondents "could possibly see stem cells as maybe being marginally relevant" if they were shown to be safe and effective agents for erectile dysfunction, while another 35% "would definitely begin to care about stem cell research" if charges of sexual misconduct were to be levied against a celebrity or politician on the stem cells' behalf.
Indeed, many survey participants indicated that they could imagine a time when the intriguing ethical dilemma might enter the list of the top 250 or so concerns in their lives, if they "suspended reality, and tried real hard."
"Stem cells, huh? Hmmm... I'm definitely gonna have to give it some thought," said Dr. Dean Fujikawa, a community physician in Palo Alto. "Yeah - I'll just pencil it in right here, in between the 26th and 27th HMO patients I have to see today. Sure thing."
A spokesperson from the International Council For Human Rights promised to comment one of these days.
Remember: Quality Without The Q Is Just Uality!
Menu

More great
gifts!

Makes a great
gift!