Severe Anxiety
October 10, 2001
Each issue, Q Fever! presents a challenging clinical conundrum to test readers' problem-solving skills and illustrate bread-and-butter medical principles. Good luck!
A.P. is a 35-year-old woman who presents to your office with severe anxiety of six months' duration.
She states her anxiety is worst in the morning, particularly on her way to work. Symptoms subside during the day, but recur in the evening on the way home.
The symptoms are described as "being trapped," "feeling out of control," and "feels like I'm suffocating." She has presented twice to New York Downtown Medical Center - both times brought by the concerned passengers in her carpool, and both times diagnosed with hyperventilation and anxiety.
Of note, she has no symptoms on weekends.
Previous medical and surgical history is unremarkable. She takes no medications, denies allergies, and does not smoke or drink. She works as a clothing sales representative on West Broadway.
On physical exam, the patient is in no apparent distress. Her mood and affect appear appropriate, and her demeanor is pleasant.
Temperature is 97.7F, pulse is 80, blood pressure is 120/70, and respirations are 12.
Head and neck, lung, heart, and abdominal exams are normal.
Screening laboratory studies show normal complete blood count, electrolyte panel, and thyroid studies.
You are stymied until you note that the patient commutes to work from East Hanover, NJ.
Quickly obtaining a map of the Tri-State area from your receptionist, your suspicions are confirmed by a careful examination of the patient's driving route: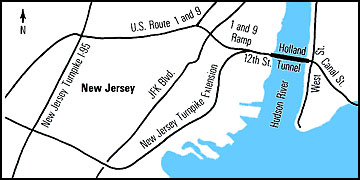 What's going on?
---
Answer:
Carpool Tunnel Syndrome
This woman, who presents with severe anxiety while traveling to and from work, has Carpool Tunnel Syndrome.
The presence of the Holland Tunnel on a map of the driving route of a patient who carpools to work is pathognomonic for the disorder.
Upon further questioning, the patient revealed that her anxiety was indeed at its height during the 1.5 mile stretch within the Holland Tunnel to and from work each day.
Experiencing sensations of claustrophobia and air hunger is not uncommon among people driving through lengthy subterranean tunnels - sensations which may be compounded when traveling with two or more strangers from a RideShare program.
The diagnosis can be further confirmed by meeting the patient's carpool passengers in person, making note of any odd and/or eccentric behavioral anomalies which may be misconstrued as threatening or antisocial.
Treatment is straightforward and involves building a new above-ground roadway traversing the Hudson River wide enough to accomodate a large number passengers traveling singly, thereby eliminating the need for carpools. The addition of ample parking space in the city itself for the enormous influx of automobiles which would then ensue is also desirable.
Alternatively, the patient can simply find a job in Hoboken; either method is safe, cost-effective and covered by most insurance plans.
Remember: Quality Without The Q Is Just Uality!
Menu

More great
gifts!

Makes a great
gift!