Self-Medicating Physician Sues Self
Frustated with poor care, inaccurate diagnoses
February 6, 2002
AKRON,OH--Arguments were heard today in a downtown Akron district courtroom, with Dr. Joel Greenbaum contending that he practices medicine in a grossly negligent and incompetent fashion.
Greenbaum, an internist who has been self-diagnosing and self-medicating for approximately five years, alleges that he repeatedly missed obvious diagnoses, prescribed the wrong medications, and caused himself to become addicted to narcotic pain relievers.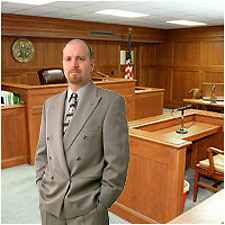 Dr. Joel Greenbaum
"I also gave myself a terrible rash with penicillin, which I probably didn't even need," said Greenbaum. "And I knew I was allergic to it, so why would I even prescribe it? It's actions like that, that suggest an utterly cavalier attitude toward my health and well-being."
Attorney Jay O'Brien, arguing for the prosecution, said Greenbaum's incorrect notion that his 17-pound weight loss was due to cancer resulted in substantial emotional distress and depression. Another physician, he reported, subsequently showed the weight loss to have resulted from laxative abuse.
On the witness stand, Greenbaum described himself as an excessively demanding patient, often waking himself up in the middle of the night with trivial medical concerns. He also described his inappropriate efforts to obtain narcotics, sometimes doing so from emergency room or urgent care physicians when he was unable to convince himself to prescribe them.
Greenbaum and his attorney estimate damages totaling $2.2 million; if found guilty, they are demanding that he be stripped of his license and forced to live out his days on the money from the malpractice settlement.
Remember: Quality Without The Q Is Just Uality!
Menu

More great
gifts!

Makes a great
gift!