Use Of Inferior Vena Cava Filters "Strongly Discouraged"
At-least-average quality filters "much better"
December 10, 2003
MONTEREY, CA—According to new guidelines released today by the American Society For Vascular Surgery (ASVS), physicians treating or trying to prevent deep venous thrombosis should think twice before inserting inferior vena cava filters.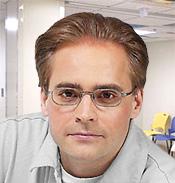 Dr. Kevin Mooney
"In this day and age, there's just no need to use inferior products anywhere, let alone in the human body," said ASVS president Dr. Shamel Mooney.
"It's a travesty. We have the technology to produce vena cava filters of at least average quality, and yet, in the U.S. alone, more than two thousand of the inferior kind get placed every year."
"Look," continued Mooney, "I'm all for healthcare budgeting and cost-containment, but these filters are simply not the place to skimp on the goods. I mean, why not just go ahead and start putting in crappy prosthetic heart valves or cheap-ass coronary stents while we're at it?"
In the new 2004 ASVS Guidelines, it is now recommended that the use of inferior vena cava filters be avoided in favor of vena cava filters of "not-less-than mediocre" quality.
"C'mon, people," says Mooney. "Get with the program here. Put in the good kind. Or at least the fair-to-middlin' kind. That's all we're asking."

Remember: Quality Without The Q Is Just Uality!
Menu

More great
gifts!

Makes a great
gift!