New Pre-Denial Process To Expedite Claims
Expected to decrease administrative delays by up to 85%
August 9, 2000
LOUISVILLE, KY—Harmona Healthcare, one of the nation's largest managed care insurance payors, has announced plans to introduce "Pre-Denial" of claims to all of its members beginning in the first quarter of 2001.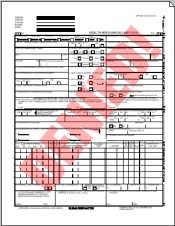 New "Pre-Denied"
Claim Form
According to Harmona spokesperson Richard Leikie, "Pre-Denial" will eliminate 80% of claims processing delays, and is expected to galvanize sagging profits at the HMO, which also operates clinics throughout the southeastern U.S. and nationally.
"The way it works is this," said Leike. "Rather than having a member waste their time filling out a complicated form and sending it to us, only to find out a month later that we denied it, what we're going to do is give our members the option of filling out our new 'Pre-Denial' form, which they'll address and send to themselves instead."
"That way, they'll find out about their claim denial in as few as two to three days on average, though it may be slightly longer during busy mail seasons."
Leike added that members would also be given the option, for a nominal fee, of using USPS Priority Mail, Express Mail, or Federal Express Overnight for considerably faster notification of their claim denial.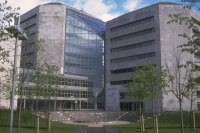 Harmona Headquarters,
Louisville, KY
"Basically, we're putting the control back into the hands of the consumer," continued Leike. "Survey after survey tells us the same thing: no one likes to wait weeks or months for their claim to be processed. Now, if someone says, 'I've gotta know by noon tomorrow,' they just fill out the form, address an envelope to themselves, and drop it all off at Fed Ex before 6PM. You better believe they'll have their answer by morning!"
Reportedly, "Pre-Denial" will be offered to participating Harmona physicians as early as fall 2001, in order to accelerate processing of authorization requests for urgent diagnostic tests and procedures.
br>
Remember: Quality Without The Q Is Just Uality!
Menu

More great
gifts!

Makes a great
gift!