Stetho-Scopes
Astrology For The Medically Challenged™
November 1, 2000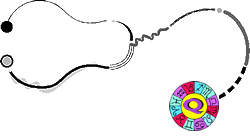 Q Fever! isn't afraid to ask: "Do you believe in magick?"
Studies have shown conclusively that an unquestioning, mindless belief in the occult is an important part of the health and healing process.
And, much as licensed homeopaths do, we submit that the supernatural is in fact realer than what actually makes sense, or has been shown to be true.
Here's proof: Stetho-Scopes.
Aries (March 21 - April 19)
The last quarter moon on the 20th sends you on a wild goose chase or is it duck-duck-goose? Whatever. You'd best sit still in your room on that day, and for the rest of the month, for that matter, since the flu vaccine is in low supply. The best way to not get the flu is to not come into contact with anyone - anyone.
Taurus (April 20 -May 20)
Taurus: now there's an American car that's got exactly what you've been looking for! I would say that you should use your extra time this month to research and buy a new car. Preferably, you should buy a Ford Taurus since it is a great way of advertising your astrological sign to everyone AND of showing your allegiance to Ford, what with their tires exploding and their recall of the new Ford Focus and all.
Gemini (May 21 - June 21)
I say you sue Wrigley Gum this month, as you're a twin, and you wanna be in their DoubleMint commercials. I know it's just your sign that's a twin, but isn't that some sort of discrimination? Also, have you noticed that they never put male/female fraternal twins in their commercials? They deserve to be punished - it's the American way.
Cancer (June 22 - July 22)
The moon is new on the 27th - and you know what that means! You're due for your annual prostate exam and colonoscopy. No excuses: just see your doctor and drop your pants. They also like it if you turn three times and say Guaiac Me, Guaiac Me, Guaiac Me!
Leo (July 23 - Aug. 22)
With Scorpio and Virgo in your court between the 22nd and 24th, you are able to see beyond your wildest dreams… even if you only dream of new tires for your 1984 Chevette. So listen to your heart and take your antibiotic endocarditis prophylaxis, cause Roth spots can really mess up your vision.
Virgo (Aug 23 - Sept. 22)
The moon enters Virgo on the 22nd, just as the sun enters Scorpio. I am never sure what that means, so I checked with my friend who suggested that you start eating eggs and red meat because you are probably low on B12. Folate is also helpful, so eat green vegetables. Oh, and too much soda can give you the runs, so just a little this month.
Libra (Sept. 23 - Oct. 23)
The moon fades through your sign this month and as you would expect, this is not good. I think your best bet is to go on vacation. Take it easy, stay at home or visit Africa (unless you already live in Africa, in which case I can't help you). Just remember to stay up to date on your vaccines, especially if you're gonna be staying home.
Scorpio (Oct. 24 - Nov. 21)
I would watch it as the weekend approaches since Mercury goes retrograde. Low temperatures can really be bad. Stop the barbiturates or crank up the electric blanket, but be careful not to crank it too high. Also, put your socks on before your underwear. You don't want to get any fungus up where it doesn't belong.
Sagittarius (Nov. 22 - Dec. 21)
Access is going to be an issue this month. I am not talking about IV or central line issues, I am talking about security swipe cards for hospital entry. The best thing to do is say that you lost yours and get a duplicate made. That way when you actually DO lose your card you have a back-up. Also, you can sell your original one on Ebay to people who really need access to the hospital for one reason or another. Best not to ask.
Capricorn (Dec. 22 - Jan. 19)
Plaque is going to be a big issue this month. Brush your teeth, floss, and use a really good mouth wash. See your dentist. Also, I would cut back on the high fat foods and take some antibiotics to kill off that chlamydia that is likely causing your atherosclerosis. Hey, if you have chest pain don't run to the hospital; call 911. (But don't run to the phone).
Aquarius (Jan. 20 - Feb. 18)
Ah... Aquarius, the water sign, is my favorite. So your feet are a bit swollen this month. Don't try to drain them with needles like they did in the 1920's, and don't take any medications unless your doctor tells you to… just kick back and elevate your feet. That's what an Ottoman is for, isn't it?! But, why is it called an Ottoman? You guessed it: Otto, a doctor from Needles, AZ, had swollen feet in the 1920's.
Pisces (Feb. 19 - Mar. 20)
So, your computer broke down. This month, don't fix it yourself. Just sit back, call the Help Desk people, and wait a few weeks. They'll fix it eventually. Meanwhile, use this time to explore the hospital a bit. One of my favorite things to do is to find the network printer and change the color of paper in the main tray. Vary the color by day with red on Monday, orange on Tuesday, yellow on Wednesday, green on Thursday, blue on Friday, indigo on Saturday and purple on Sunday. It's easy to remember: ROY-G-BIV. All your coworkers will love you, I promise!
Remember: Quality Without The Q Is Just Uality!
Menu

More great
gifts!

Makes a great
gift!