Disorientation
February 6, 2002
Each issue, Q Fever! presents a challenging clinical conundrum to test readers' problem-solving skills and illustrate bread-and-butter medical principles. Good luck!
B.R. is a 22-year-old male who is brought to the emergency room by a friend after being found wandering alone in the park. He had apparently been missing for several days.
Attempts to communicate with the patient have reportedly been unsuccessful.
According to the friend, previous medical and surgical history, medications, or allergies are unknown, but the patient "definitely" does not smoke, drink, or use illicit substances. He is also unemployed.
On physical exam, the patient is in no apparent distress. His mood and affect appear appropriate, but he does not respond to verbal stimuli other than to make grunting and huffing noises.
Temperature is 96.0F, pulse is 120, blood pressure is 240/130, and respirations are 27.
Head and neck, lung, heart, and abdominal exams are normal. You are unable to do a full neurological exam due to difficulty communicating with him, but he moves all four extremities, and reflexes are normal.
Stat laboratory studies show normal complete blood count, electrolyte panel, and thyroid studies. A urinalysis and urine toxicology screen are also normal.
You and your team are perplexed until you suddenly recall a fact you learned as a second-year medical student.
Acting on a hunch, you stand back a few feet and look at the patient from a different vantage point. You note the following: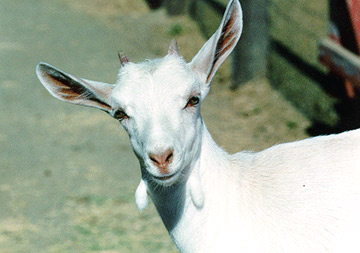 What's going on?
---
Answer:
White Goat Hypertension
This patient, a 22-year-old male who was found wandering in the park after being missing for several days, has White Goat Hypertension.
Subtle clues to the diagnosis are the elevated blood pressure, the grunting and huffing noises, and the finding of a white goat on physical exam.
The hypertensive condition is believed to be an artifact, as many white goats demonstrate highly elevated blood pressures when placed in healthcare environments.
However, when re-measured at home or in the barnyard, their 'hypertension' resolves.
Treatment is unecessary. The patient should be reassured and given some hay to munch on while awaiting transfer back to the farm.
You and your team, meanwhile, deserve to treat yourselves to a few rounds at the corner pub, having solved yet another clinical conundrum using your clinical acumen, expert deductive abilities, and a little helping of good ol'-fashioned luck.
Remember: Quality Without The Q Is Just Uality!
Menu

More great
gifts!

Makes a great
gift!