Abdominal Pain
April 10, 2002
Each issue, Q Fever! presents a challenging clinical conundrum to test readers' problem-solving skills and illustrate bread-and-butter medical principles. Good luck!
A.R. is a 40-year-old woman who presents to your office with the chief complaint of worsening abdominal pain for three days.
She also complains of nausea, vomiting, and constipation, and has not had a bowel movement in almost a week. She denies fevers, chest pain, or shortness of breath.
She has no significant past medical or surgical history, takes no medications, and has no allergies. She does, however, smoke five cigarettes a day, and drinks alcohol socially.
She works for a sign and placard company.
On examination, she is in mild distress due to abdominal discomfort. Vitals are significant for a pulse of 110 and blood pressure of 150/70. Lungs are clear, and heart exam is normal. Abdominal exam is significant for hypoactive bowel sounds and moderate diffuse tenderness, without rebound or guarding.
You also hear egophony - "E to A" changes on auscultation - in the abdomen.
Labs are completely normal.
You're stumped until a colleague suggests you get an abdominal x-ray, which shows the following: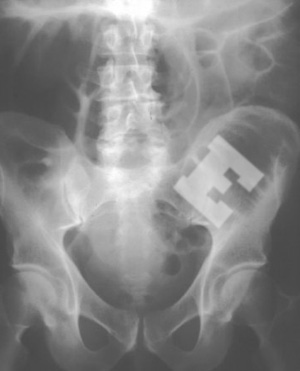 What's going on?
---
Answer:
Large Vowel Obstruction
This patient, a 39 year old woman who works for a sign and placard company, has a large vowel obstruction.
The presence of a large vowel in the colon on plain film of the abdomen is pathognomic for this disorder, and clinches the diagnosis.
Large vowel obstruction is difficult to diagnose on physical exam alone, but the presence of "E to A" changes during auscultation of the abdomen is highly suggestive, and should prompt experienced clinicians to order abdominal films at their earliest convenience.
On further questioning, it was discovered that the patient had recently been involved in an untoward incident at work involving a "FOR SAL" sign.
A colonoscopy was performed, and the offending vowel was removed without complications. Vowel rest was advised, and the patient recovered fully.
Remember: Quality Without The Q Is Just Uality!
Menu

More great
gifts!

Makes a great
gift!