Drug Rep Not Avoided
Attempt to obtain pens results in five-minute lecture on Cozaar
April 10, 2002
MIAMI, FL--An attempt by Dr. Terry Kinard to obtain some extra pens yesterday resulted in an awkward five-minute encounter with Bruce Clyburn, a drug company representative from Merck, said Kinard from his office this morning.
"There was a drug fair at the hospital, and I had already gotten a reflex hammer and a box of Zantac 75's," said the internist. "I thought, well, I've managed to not speak to any drug reps yet, let's see if I can sneak some extra pens and maybe some post-its too while I'm at it."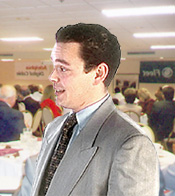 Bruce Clyburn, Merck Rep
He says he tried to reach his hand in between two physicians who had been cornered by a Merck drug rep, but "didn't see [Clyburn] creep up behind me."
"As soon as I heard him say, 'Dr. Kinard! Have you been using Cozaar?', I thought, DAMN!"
"He kept talking, and I was just standing there like, shoot, how long is this guy gonna talk about friggin' Cozaar? Did I really need those stupid pens? Haven't I already got more than I need? I mean, does he think I'm listening? OK, gotta be polite. Keep pretending. Man, this is ridiculous! I don't want to talk about Cozaar! I can't prescribe it anyways - it's not even on the formulary! Why did I wear my I.D. tag? Next time I'm gonna put it in my pocket. Jeez, is he still talking?"
After five uncomfortable minutes, Clyburn allowed Kinard to choose from the offerings on the Merck table.
"One pen!" says a dejected Kinard. "I was only able to get one pen, and no post-its, for having to pretend to listen to him talk for all that time. All the other stuff they had was junk. Who wants a coaster that says "Propecia" on it? Sheesh!"
When reached by phone, Clyburn remarked "Cozaar works just as well as Diovan for high blood pressure. And if you look at this here graphic, you'll see that side effects are comparable to placebo. Just remember: Cozaar. And while I have you here, have you been using Hyzaar? Hyzaar has once-a-day dosing for this you know when pressure dose give study adjust angiotensin combination daily..."
The remainder of Clyburn's statements could not be properly comprehended.
Remember: Quality Without The Q Is Just Uality!
Menu

More great
gifts!

Makes a great
gift!