Muscle Pain
November 1, 2002
Each issue, Q Fever! presents a challenging clinical conundrum to test readers' problem-solving skills and illustrate bread-and-butter medical principles. Good luck!
T.D. is a 65-year-old woman with a history of hypothyroidism who presents to your office with the complaint of pain and stiffness involving her shoulders and hips, along with fatigue and increasing difficulty walking for 4 weeks.
She denies fevers, visual symptoms, abdominal pain, sweats, nausea, constipation or diarrhea, and says that prior to the onset of symptoms she had been in good health.
Past medical and surgical history is otherwise unremarkable.
She takes no medications, has no allergies, and does not smoke or drink; she works as a literary agent.
On examination, she is in no distress. Auscultation of the lungs, heart, and abdomen is normal. The extremities show no edema. Examination of the shoulders and hips suggests stiffness and pain elicited by movements. There is no muscle weakness.
Labs including glucose, electrolytes, renal function, thyroid function, and urinalysis are unremarkable, but an erythrocyte sedimentation rate is 120.
You're stumped until inspiration suddenly strikes. You ask a few questions and order a diagnostic test, which shows the following: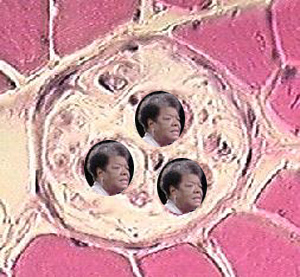 What's going on?
---
Answer:
PolyMayaAngelou Rheumatica
This patient, a 65-year-old literary agent with fatigue, proximal muscle pain and stiffness, and an elevated ESR, has PolyMayaAngelou Rheumatica.
The finding of multiple occurences of Pulitzer Prize-winning author Maya Angelou on muscle biopsy is pathognomonic for the disorder, and clinches the diagnosis.
PolyMayaAngelou Rheumatica is a rare disorder that requires a high index of suspicion if the correct diagnosis is to be made. In this instance, further questioning revealed that the patient met with Ms. Angelou one month ago, after which the writer had vanished and could not be contacted by friends or family.
Treatment with steroids is highly efficacious, and removes Maya Angelou from the muscle tissue quickly and safely. Ms. Angelou herself is not harmed during the process, and can often return to her current writing project within days of being liberated.
Remember: Quality Without The Q Is Just Uality!
Menu

More great
gifts!

Makes a great
gift!