Enhanced Stethoscope Saves Time
Extra-large diaphragm facilitates auscultation
November 1, 2002
OAKDALE, MN--3M Littmann, a leading manufacturer of auscultation devices, has announced the development of the Cardiology IV, a stethoscope that experts say will change the way clinicians do physical exams.
While traditional stethoscopes have diaphragms measuring 1 1/2 to 2 inches in diameter, the diaphgram of the Cardiology IV will measure a full twelve inches across, allowing auscultation of entire organ systems without the need to lift the chestpiece off the patient's body.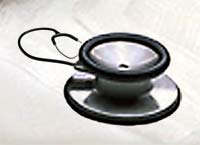 The Littman Cardiology IV
"Before, you had to move stethoscopes from point to point on the chest, thorax, and abdomen, only listening to a couple of inches of area at a time," says Dr. Harold Bearden, a researcher at Littman. "It took forever, and a lot of times you wound up missing crucial diagnoses, just because you didn't hear the one specific spot where the problem was."
With the Cardiology IV, says Bearden, an entire cardiac examination can be performed in seconds, as can examination of the abdomen or lungs.
"Diagnostic accuracy is increased a hundred-fold, because you hear everything," he adds. "Heart sounds, murmurs, gallops, rubs, bruits, bowel sounds, breath sounds, wheezes, rales, rhonchi - imagine hearing all of these things, all at the same time: that's the promise of the Littmann Cardiology IV!"
Weighing over eight pounds, the new stethoscope will sold with a special knapsack for convenient carrying and storage, and for prevention of neck injuries during rounds.
Remember: Quality Without The Q Is Just Uality!
Menu

More great
gifts!

Makes a great
gift!