The Q Fever! Advisory Board
Our expert panel tackles today's most pressing questions.
July 12, 2000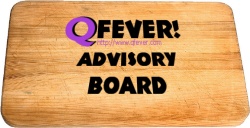 This week's question:
On Capitol Hill, politicians continue to debate the possible expansion of Medicare to cover prescription drugs. How would it affect you?

Suleiman Oskanovich
Weight Lifter
"Since collapse of ruble, is hard to obtain enriched ox-testicle extract and clean syringe"

Zeus
God Of Thunder
"Men are from Mars, women are from Venus? Gimme a break. Y'all are all from Fresno."
G. W. Bush
Compassionate Conservative
"I think I've made it real clear that I'm not gonna discuss unfounded rumors about drug use, whether it was by myself or by our nation's fine, upstanding senior citizens, including my Dad"

Eric The Red
Viking Leader
"For I have sailed far across the sea, to a wondrous land covered in trees and vines that we named Vineland.*"
*Couldn't get health insurance though, so we went back to Sweden.

Ernest Hemingway
Gun-Toting Novelist
"Then we stopped there and Robert wanted to fill his doxycycline prescription but I said no and there was a terrific row and all the while the sun shone through the pharmacy window and danced upon the floor like the bugs were dancing in Robert's urethra and we were all glad the day was so fine."

Pocahontas
Native American
"OK, but I get to be on the $5 one"

Pat King Kong
Sass Quatch
"Eeep."
Translation: "From whence came man, there man shalt return"
Remember: Quality Without The Q Is Just Uality!
Menu

More great
gifts!

Makes a great
gift!