Book Review: Current Procedures & Terminology (CPT) 2001
New edition offers plot twists, shocking surprise ending
October 4, 2000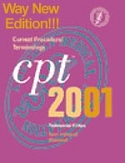 CPT 2001, due in
stores this December
The highly anticipated 2001 edition of Current Procedures & Terminology (CPT), to be released to the medical community in December 2000, promises to live up to its hype with a dazzling storyline, carefully developed characters, and an amazing ending that will knock your socks off!
A pre-release copy of CPT 2001, while showing some expected rough edges, reveals an older, wiser, and more reflective American Medical Association, which has penned a new title in the CPT series every year since 1996.
Excerpt from CPT 2001
Modifier '-27' - Multiple Outpatient Hospital E/M Encounters on the Same Date:
For hospital outpatient reporting purposes, utilization of hospital resources related to separate and distinct E/M encounters performed in multiple outpatient hospital settings on the same date may be reported by adding the modifier '-27' to each appropriate level outpatient and/or emergency department E/M code(s). This modifier provides a means of reporting circumstances involving evaluation and management services provided by physician(s) in more than one (multiple) outpatient hospital setting(s) (eg, hospital emergency department, clinic). Note: This modifier is not to be used for physician reporting of multiple E/M services performed by the same physician on the same date. For physician reporting of all outpatient evaluation and management services provided by the same physician on the same date and performed in multiple outpatient setting(s) (eg, hospital emergency department, clinic), see Evaluation and Management, Emergency Department, or Preventive Medicine services codes.
As if to rebuff the numerous critics who have suggested that the worldwide box-office success of Oliver Stone's big-screen adaptation of CPT 1999 ($270 million gross in the U.S. alone) has softened the AMA's ability and desire to reach out to its core audience, CPT 2001 is angry and indignant in tone, while maintaining a masterful undertone of deeply felt compassion and sorrow.
The plot is complex, but not more complex than in the popular ICD-9 series; meanwhile, characters spring to life on every page:
80048 Basic metabolic panel: This panel must include the following: Calcium (82310) Carbon dioxide (82374) Chloride (82435) Creatinine (82565) Glucose (82947) Potassium (84132) Sodium (84295) Urea Nitrogen (BUN) (84520)
Add to this the drama of over 600+ new codes, and the book (available in spiral or ring-binder formats) surges towards an incredible and shocking climactic scene involving Code 64630 (Destruction by neurolytic agent; pudendal nerve) and Code 90732 (Pneumococcal polysaccharide vaccine, 23-valent, adult or immunosuppressed patient dosage, for subcutaneous or intramuscular use), one that will have readers both crying and laughing, as they stand and applaud!
CPT 2001will be available in medical bookstores everywhere, as well as on the internet via the AMA website.

Remember: Quality Without The Q Is Just Uality!
Menu

More great
gifts!

Makes a great
gift!