JCAHO Requirements Successfully Implemented For One Day
Brief episode of properly closed fire doors, hiding of expired guaiac cards happens to occur on day of JCAHO accreditation survey
September 20, 2000
LOUISVILLE, KY—Officials at Harmona Healthcare, one of the nation's largest managed care providers and healthcare insurers, announced Thursday that for one day last month, the Quality Management guidelines set forth by the Joint Commission on Accreditation of Healthcare Organizations (JCAHO) were successfully implemented.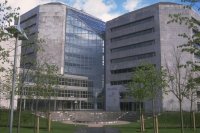 Harmona Healthcare,
Louisville, KY
In a remarkable coincidence, that same day was also noted by observers to be the very day of the JCAHO accreditation visit to the medical center.
"What are that chances of that happening?!" said Harmona Spokesperson Richard Leike at Thursday's press conference and question-and-answer session in the Harmona lobby.
JCAHO, the national accrediting body for hospitals and other health care delivery organizations, requires a full accreditation survey at most healthcare institutions at least every three years. During these site visits, JCAHO sends a physician, an administrator, and one other health care specialist, usually a nurse, to evaluate the facility.
Jean Graham, a staff LVN in Harmona's Outpatient Module 8C, expressed surprise regarding the timing of JCAHO's visit.
"Well, it just so happened that my supervisor had JUST come around closing all the fire doors, which we always prop open, and then she went in all the exam rooms and put all the expired guaiac cards away, and just generally got things organized for the first time in the eighteen months I've been here," noted Graham. "She even checked all the floor stock medications to see if they were all there and if they were still good. No one EVER does that. Plus, she threw out all the ashtrays in the waiting rooms!"
"Then, wouldn't you know it, just a few hours later, JCAHO showed up to do their survey. Call it luck or whatever, but that's a quinky-dink if I ever saw one!"
Graham also noted that, upon the departure of the accreditation team, the fire doors were quickly reopened, and the expired guaiac cards were placed back into the exam rooms.
"I haven't even seen my supervisor since then, and that was more than a month ago," she recalled.
JCAHO's next accreditation survey at Harmona is scheduled for 2003.
br>
Remember: Quality Without The Q Is Just Uality!
Menu

More great
gifts!

Makes a great
gift!