Diabetic Neuropathy Linked To Autonomic Dysfunction
Students likely to pass out, become nauseated, says study
May 2, 2001
ATLANTA, GA--Investigators at Atlanta's Grady Hospital say they have demonstrated yet another important link between diabetes mellitus and dysfunction of the autonomic nervous system.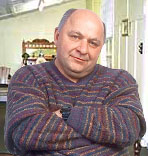 Harris M. Jenkins
A prospective 2-year study "conclusively" suggested that, when presented with purulent, oozing diabetic foot ulcers, a significant percentage of medical and nursing students experience nausea, sudden bradycardia, lightheadedness, sweating, or syncope - all characteristic symptoms of autonomic dysfunction.
Study participants were challenged with the foot of Harris M. Jenkins, a long-time Grady Hospital patient known for his noncompliance with medical therapies. According to chief researcher Dr. Parveen Sharma, autonomic dysfunction in onlooking students was exacerbated when Jenkins "wiggled what's left of his toes".
Mervin Steele, a third year medical student in the middle of an Internal Medicine rotation, recounted his experience in the study. "I was led into an exam room, and Dr. Sharma told Mr. Jenkins to take off his sock. When the smell hit me, I started to feel kind of cold. Then I looked closely, and noticed you could see exposed tendon at the base of one of his ulcers. The next thing I knew, I woke up on the floor."
According to Sharma, the link between autonomic dysfunction and diabetes is relatively well understood in diabetic patients themselves.
"We know that in diabetics [autonomic dysfunction] arises because the diabetes damages autonomic nerves over time," said Sharma. "But, as our study suggests, we really know very little about how profoundly diabetes in one person can influence the autonomic nervous system of another."

Remember: Quality Without The Q Is Just Uality!
Menu

More great
gifts!

Makes a great
gift!