Octogenarian Physician Prescribes Just One Medication
Uses only Aldomet and chicken soup to treat patients
August 1, 2001
NEW YORK, NY--More and more, physicans are faced with difficult decisions when prescribing medications, as "cost-effective" care becomes increasingly emphasized in today's managed care environment.
One physican who's never had trouble keeping treatment costs down, though, is Dr. Sidney Steinherz, of Manhattan's prestigious New York-Presbyterian Hospital.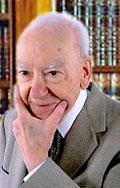 Dr. Sidney Steinherz
Steinherz, 86, is a popular cardiologist who has treated New Yorkers with heart failure and hypertension for over 55 years. But what sets him apart from most of his colleagues is the fact that he uses just two simple treatments, for all of his patients.
"When some poor soul gets a little congestion, I jus' give 'em a little chicken soup," he says. "Millie [Steinherz' wife of 58 years] makes the best mahtzo balls you ever tasted, and if that don't work, nothing will - you got that right!"
Regarding cardiac conditions, Steinherz says "every one of them danged house officers gives me trouble 'bout how I treat the heart. I'm tellin' you, the best thing for the heart is Aldomet, and if anyone forgets, I just remind 'em to 'Use Methyl, You-Dopa' and they sure's remember fast!"
As for other, newer medications, Steinherz remains steadfast. "Take them new-fangled calcium channel blockers. Why mess with calcium when you, me, and we all need it for givin' our bones strength, vim, and vigor?"
"And don't you get me started with them ACE inhibitors. ACE is a bandage to put on an elbow or an ankle, by Jiminy!"
Notably, Steinherz' patients live 12 years longer, on average, than those of other cardiologists, and the costs of their hospitalizations are up to 40% less.
The American Heart Association declined comment.
Remember: Quality Without The Q Is Just Uality!
Menu

More great
gifts!

Makes a great
gift!