Call Scheduling Program Runs Amok
Intern will be on call October through March
April 23, 2003
PASADENA, CA—Dr. Jeffery Bowler, a Family Practice intern at Huntington Memorial Hospital, will be on call every day from October 1st through March 28th, it was announced earlier today. In addition to being on call, Bowler will be rotating through the ICU, Pediatrics, OBGYN, and Neurology services at the same time.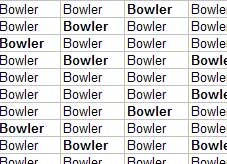 New Call Schedule
Chief Resident Dr. Judy Kershner called the situation "unfortunate," but added that the schedule was final and that change requests should be submitted "in the usual fashion."
"MedSched™, our scheduling program, usually knows what it's doing," said Kershner. "If it put Jeff on call all those days in a row, and on all those rotations, I'm sure it's got a good reason."
Dr. Kristen Schuler, also an intern at Huntington, expressed sympathy for Bowler. "Yeah, it's sad," she said. "I really feel for the guy, especially since he's not even a categorical resident. He's doing Ophtho next year, and I think he was hoping to cruise through this internship."
Schuler herself is scheduled to be on call only twice the entire year, and on vacation the rest of the time.
When last seen, Dr. Bowler was reported to be frantically asking other interns to switch calls with him, though these attempts have been unsuccessful thus far.
Remember: Quality Without The Q Is Just Uality!
Menu

More great
gifts!

Makes a great
gift!