CDC Reports High-Level Drug Resistance In Medical Resident
Believed to be isolated case
November 1, 2002
ATLANTA, GA--Public health officials here today announced that drug resistance has been detected in a medical trainee. Dr. Julie Gerberding, director of the Centers for Disease Control (CDC), announced the finding in a hastily called press conference this afternoon.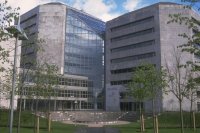 CDC Headquarters
Atlanta, GA
"After conducting confirmatory tests, we can verify that Dr. Andrew McCarroll, a second-year medical resident at the University of California-Davis, continues to function normally even when exposed to high levels of recreational drugs. This observation was originally made at a house party, and a team of field epidemiologists from our crack 'Epidemic Intelligence Service' was flown in to conduct tests. The results are disturbing."
McCarroll has apparently developed the ability to converse and ambulate normally, despite blood levels of tetrahydrocannabinol that would disable an elephant. And, aside from a tendency to show up late to rounds and conferences, McCarroll is said to be a competent and caring doctor, and an able teacher of medical students.
"I don't know how he does it," said Internal Medicine Residency Director Dr. Cal Ianni. "I've heard the stories about his drug consumption, but all his evaluations have been all right. I do remember that when we had our [Christmas retreat], Andy hung his coat up on top of mine. At the end of the evening, I put my coat back on, and it smelled like Bob Marley's rec room."
The CDC has traditionally focussed on drug resistance in bacteria, but Gerberding suggested that surveillance would now be expanded to involve medical trainees at several "sentinel sites" across the country.
It is not known whether the drug resistance trait will be able to 'hop' from medical resident to medical resident, a phenomenon that has been well described in bacteria.
Remember: Quality Without The Q Is Just Uality!
Menu

More great
gifts!

Makes a great
gift!