Utilization Review Department Using Too Many Post-Its, "Sign Here" Flags
Urged to use generic blank paper flags instead
November 1, 2000
LOUISVILLE, KY—In a statement made to the press yesterday, a Harmona Healthcare representative announced yesterday that its Utilization Review Department is using too many stationery items, and needs to "cut back."
Starting next Tuesday, each Utilization Review (UR) committee member will be assigned his/her own Utilization Review Review (URR) nurse, who will meet with the UR nurse twice a day to assess stationery usage.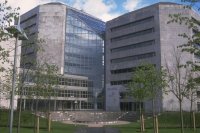 Harmona Healthcare, br> Louisville, KY
"We've found that without proper curbing of stationery use, costs could spiral out of control," said Jennifer McCauley, RN, a URR nurse.
Reaction from UR staffers has been mixed.
"The other day, I'd just put down a "Sign Here" flag on a chart, when suddenly someone appeared over my shoulder telling me that I couldn't use that on a Medicaid patient - I had to use a generic blank flag."
"It really hinders the process. Everything takes time now - we have to get our Post-Its pre-authorized, and they won't even let us use the genuine 3M ones anymore."
"And they keep telling us the generic ones are exactly the same, but... well, you can definitely tell the difference."
Many veteran UR nurses state that the new policies have led to their questioning their career choices; some are even considering early retirement.
"Nowadays, I'd advise any youngster who aspires to a career in Utilization Review to stay away, 'cause things just aren't the way they used to be," said one UR committee member, who wished to remain anonymous.
"Utilization review used to be a job that people could be proud of - it brought instant respect. Now with managed care, all that is changing."
In 1999, the number of high-schoolers who expressed a desire to be a UR staffer as a career goal declined sharply for the first time.

Remember: Quality Without The Q Is Just Uality!
Menu

More great
gifts!

Makes a great
gift!