Cold Symptoms Urgently Needed For Day Off From Work
Friend unable to come up with symptoms on her own
December 10, 2003
TUSCON, AZ—Dr. Chad Loeffler, a second-year Internal Medicine resident at Arizona Medical Center, reported today that close friend Marsha McKinnon, a Tuscon native, called him requesting cold symptoms "urgently."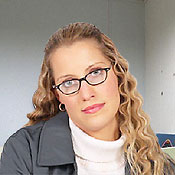 Marsha McKinnon
"She was frantic," says Loeffler. "I guess she called in sick to work today in order to get some errands done, and needs to be able to tell them something when she shows up tomorrow, or if they call to check on her today."
"You'd think she'd never had a cold before."
McKinnon, 27, was apparently unsure whether to say she had "a cough, a fever, a stomach flu, or whatever."
"I asked her to try to remember what her symptoms were the last time she had a cold, but she said she couldn't come up with any, and that I gotta help her because I'm her 'doctor friend.'"
"I'm like, it's a cold. You can't just tell them you had a cold?"
McKinnon eventually agreed to say she had a diarrhea and a rash caused by coxsackievirus. "I wonder if she'll actually say the word coxsackievirus," says Loeffler. "Now that would be funny."
"Well, all I can say," says Loeffler, "is that she'd better not ask me for a note to bring to work," a note which McKinnon will in fact request later tonight.
Remember: Quality Without The Q Is Just Uality!
Menu

More great
gifts!

Makes a great
gift!