Pharmaceutical Ad Contest Ends Without Any Entries
Sweepstakes rules were listed in fine print of every drug ad
December 10, 2003
LOS ANGELES, CA—A three-year contest run by the major pharmaceutical companies has ended without a single entry, says industry spokesperson Gerald Barton.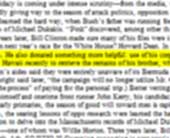 Contest Rules (Actual Size)
The contest was described in detail in the fine print found on the opposite page or reverse of all drug ads printed since January 2000, and had been open to any physician in the United States or Canada.
"All you had to do was read it, any of it," said Barton, "seeing as to how we included it with every single drug ad in every single journal, and you would have seen that we were giving away a million dollars in a random drawing that was to be held in December 2003."
"And," said Barton, "given that you would have been the only contestant, you would have been a millionaire right about now."
"On the one hand, it's kind of sad - it costs us quite a bit to have to pay for the extra advertisement page for the fine print, just because the FDA mandates it, and apparently there isn't a single one of you people out there even glancing at it," he continued. "Granted, it's pretty small print – 2-point, to be exact – but c'mon, wouldn't it have been worth a million bucks?"
"On the other hand, we'll probably be putting that money into another contest sometime soon, and though I'm not gonna say exactly what that will be just yet, here's a clue: those articles with 250 references - one of 'em might make you rich, rich, rich!"
Remember: Quality Without The Q Is Just Uality!
Menu

More great
gifts!

Makes a great
gift!