Sudden Bonk On Head Preferable To Long ICU Stay
"How We Die" [First in a series]
December 10, 2003
COLUMBUS, OH—With the aging of our population, and at the urging of health care experts, many Americans are planning ahead for their deaths. The creation of so-called "advance directives," specifically addressing such issues as code status and other aspects of palliative care, are one way people currently exert some degree of control over the way they end their lives.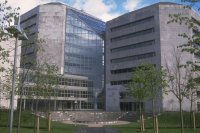 The Ohio State University
School Of Medicine
Dr. Nick Nishida has taken the planning one step further. He and his colleagues at The Ohio State University School of Medicine recently completed a survey in which elderly patients were asked, simply: "How would you prefer to die?"
Participants were given the choice of 1) an acute illness requiring an ICU stay with multiple complications including MRSA contamination, two pneumonias (including at least one aspiration), ischemic bowel, a large left MCA stroke and death after 3 weeks, OR, 2) a bonk on the head leading to sudden death.
Surprisingly, 97% selected the "bonk on the head leading to sudden death."
But is the term "bonk" too vague to have any significance, as some have suggested? Nishida disagrees. "It doesn't matter if it's a pail of cement that falls off of a scaffolding or your neighbor whacking you with a ball-peen hammer. The point is, when the time comes, people just want things to end. We usually don't provide that option in this country."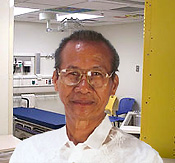 Dr. Nick Nishida
When asked how clinical changes could be implemented based on this information, Nishida responded, "[that's] the beauty of this study - it shows the ease with which we can make changes to fit people's wishes. For example, you might fill out an advance directive that states that you wish to have an anvil dropped on your head when it's your time to go."
Nishida also acknowledged that some hospitals may need to acquire some new equipment.
Ben Wachowski of Zanesville, OH, a 77-year-old man who participated in the survey, said it would be "fun" to choose his mode of death. "I'd like to get hit by a Roger Clemens fastball. Too bad I won't be able to see it though. It might be fun to watch." When reminded that Clemens might not be around when the time came, Wachowski's wife offered to hit him over the head with their 1952 Hoover FloorMaster.
Patient advocates are praising the increased autonomy that would arise from these new forms of advance directives. Health care analysts, too, are excited about the potential cost savings.
Rudolph Hechst, an administrator for Kaiser Permanente in Los Angeles says that the annual cost savings might be "on the order of ten million dollars."
"When you start subtracting out all those end-of-life ICU stays, the potential fiscal benefits are staggering," said Hechst. "Sure, we'd need a few anvils and a lead pipe or two, but that's peanuts in comparison."
Nevetheless, the new system has had its share of critics.
Julian Bass, an 82-year-old man from Warren, OH complained last May that deaths caused by "bonking" would be barbaric.
"I survived two botched murder attempts by ex-wives," said Bass, "one of whom dropped a bowling ball on my head, and the other of whom swung a hot iron like a whip – fortunately, the cord broke before I got hurt. So I can't imagine what sort of peace or gratification any human being could get from a bonk on the head. It's just not right."
Unfortunately, Bass was killed recently by his third wife, who dropped a 1973 Chrysler Imperial on his head as he slept in his home.
Remember: Quality Without The Q Is Just Uality!
Menu

More great
gifts!

Makes a great
gift!