Stetho-Scopes
So uncanny ... you'll piss your pants.™
August 10, 2005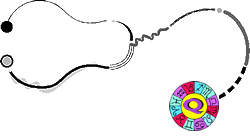 Q Fever! isn't afraid to ask: "Do you believe in magick?"
Studies have shown conclusively that an unquestioning, mindless belief in the occult is an important part of the health and healing process.
And, much as licensed homeopaths do, we submit that the supernatural is in fact realer than what actually makes sense, or has been shown to be true.
Here's proof: Stetho-Scopes.
| | |
| --- | --- |
| Blood Type | Stetho-Scope |
| A- | You find yourself walking down a long, winding flight of stairs when you suddenly realize: the new lab director's isn't nearly as young or beautiful as the last one was, but you're strangely attracted to him. Also, you're the new lab director. |
| A+ | You've got mail! Unfortunately, it's a Public Letter of Reprimand, and you're going to be featured prominently in the next installment of the Board Action newsletter. |
| B- | Tired of long nights in the city with high humidity and no air conditioning, you bathe yourself in isopropyl alcohol. You subsequently discover that not only is this type of alcohol rather uncomfortable to soak in, it is also dangerously flammable. After your prolonged stay in the unit, you make a note to put out the cigar next time. |
| B+ | Most people are happy with 5 minutes, maybe ten tops. You aren't, so you pop four sildenafils at once. Six hours of bliss later, you finally understand what the "ism" in "priaprism" really stands for. |
| AB- | Your subscription to the New England Journal Of Medicine ends - not because you failed to renew, but because you wrote a scathing letter to the New England Journal Of Medicine asking them to terminate your subscription. |
| AB+ | Costco is a fine place to shop for Adirondack-brand lawn furniture, but you'll be sorry you went there with your entire team - especially the part where you all took turns practicing drawing blood from the woman doing the toasty-bread samples. |
| O- | Halfway through a routine appendectomy, you are summarily asked to scrub out for reasons you don't initially understand. Maybe it's the fact that you're an actor, not a doctor ... and a bad one, at that. |
| O+ | You should avoid relying on your implanted automatic defibrillator to cardiovert you when you go into V-Fib. According to a safety alert recently issued by the FDA, these devices only work when they are actually implanted in your body. |
Remember: Quality Without The Q Is Just Uality!
Menu

More great
gifts!

Makes a great
gift!