"Confusing" Brand, Generic Drug Name System To Be Replaced
Full scientific nomenclature will soon be mandatory
November 1, 2002
WASHINGTON, DC--In an effort to decrease prescription errors, The American Pharmaceutical Association announced today that a new naming system will be enforced by pharmacies nationwide beginning in January.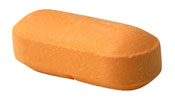 (R.S.) 3-ethyl-5-methyl-
2-(2-aminoethoxymethyl)-4-(2-
chlorophenyl)-1,4-dihydro-
6-methyl-
3,5-pyridinedicarboxylate
benzenesulphonate
(previously known as Norvasc)
Instead of the current system of brand and generic names, clinicians will be required to use full scientific nomenclature on all prescriptions, and are urged to use the new names when discussing medications with patients and with other providers.
"There's mounting evidence that having both a brand and a generic name causes a lot of unnecessary confusion," said APhA spokesman Noreen Marzette. "You get patients taking both Lasix and furosemide, not knowing they're the same thing."
"Now in the new system, they're on 4-chloro-N-furfuryl-5-sulfamoylanthranilic acid. It just doesn't get much more unambiguous than that."
According to the APhA, responses to the planned implementation have been mixed. At a trial implementation in Baltimore, MD, some patients were reportedly unable to obtain (3b, 5b, 12b)-3-[(O-2,6-dideoxy-b-D-ribo-hexopyranosyl-(1"4)-O-2,6-dideoxy-b-D-ribo-hexopyranosyl-(1"4)-2,6-dideoxy-b-D-ribo-hexopyranosyl)oxy]-12,14-dihydroxy-card-20(22)-enolide (formerly known as digoxin) when a computer glitch caused the third hexopyranosyl to be omitted.
Nevertheless, the new system will be universally adopted by pharmacies, hospitals, and medical centers throughout the nation in January 2003. Prescriptions not written in scientific notation after that time will be sent back to the prescribing clinician for revision.
| | |
| --- | --- |
| Old | New |
| Prozac (fluoxetine) | (±)-N-methyl-3-phenyl-3-[(a,a,a-trifluoro-p-tolyl)-oxy]propylamine hydrochloride |
| Viagra (sildafenil) | 1-[[3-(6,7-dihydro-1-methyl-7-oxo-3-propyl-1H-pyrazolo[4,3-d]pyrimidin-5-yl)-4-ethoxyphenyl]sulfonyl]-4-methylpiperazine citrate |
| Tagamet (cimetidine) | guanidine, N''- cyano-N-methyl-N¢- [2-[[(5-methyl-1H-imidazol-4-yl)methyl]thio]-ethyl]-monohydrochloride |
| Valium (diazepam) | 7-chloro-1,3-dihydro-1-methyl-5-phenyl-2H-1,4-benzodiazepin-2-one |
| Norvasc (amlodipine) | (R.S.) 3-ethyl-5-methyl-2-(2-aminoethoxymethyl)-4-(2-chlorophenyl)-1,4-dihydro-6-methyl-3,5-pyridinedicarboxylate benzenesulphonate |
| Zithromax (azithro-mycin) | (2R,3S,4R,5R,8R,10R,11R,12S,13S,14R)-13-[(2,6-dideoxy-3-C-methyl-3-O-methyl-a-L-ribo-hexopyranosyl)oxy]-2-ethyl-3,4,10-trihydroxy-3,5,6,8,10,12,14-heptamethyl-11-[[3,4,6-trideoxy-3-(dimethylamino)-b-D-xylo-hexopyranosyl]oxy]-1-oxa-6-azacyclopentadecan-15-one |
Remember: Quality Without The Q Is Just Uality!
Menu

More great
gifts!

Makes a great
gift!