The Q Fever! Advisory Board
Our expert panel tackles today's most pressing questions.
July 26, 2000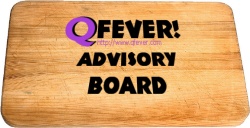 This week's question:
Physicians in the United States face a high rate of medical malpractice lawsuits. Such suits can be emotionally and financially devastating. How can they protect themselves?
Chef Louis

Pastry Maven

"La torte, c'est delicieux, non?"*

*"Tort law is out of control in the United States. Custard is a completely unregulated commodity in your damn country"

Woodland Willie

Tree Surgeon

"Lawsuits ain't been as big a problem in tree surgery as in, say, plastic surgery or neurosurgery. I think it's just a different clientele"

Sister M. Louisa

Singing Nun




"If your doctor chops off the wrong limb,
That's no reason to sue her or him.
Our Lord says forgive, forgive and forget,
And if you're patient, your leg may grow back yet!"

Vinnie "Vinnie Legs" Fandango

"Businessman"

"Hey Doc, this creep givin' you trouble? Maybe I oughtta have a little talk with 'dat guy, you think?"

Machiavelli

Machiavellian

Prince

"There's very little that a cunningly forged informed consent form won't excuse."

Larry Lizard

Lizard

"Eep."*

*"Try not to confuse warm-blooded and cold-blooded patients. Their medical needs are very different."
Remember: Quality Without The Q Is Just Uality!
Menu

More great
gifts!

Makes a great
gift!